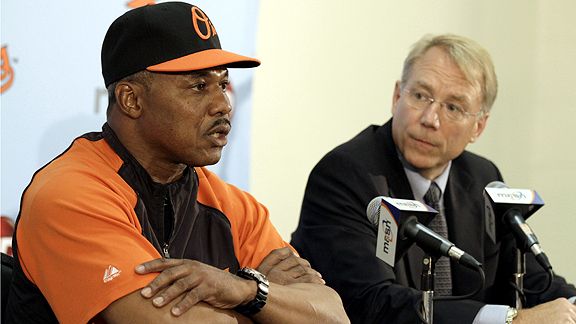 "Mr. MacPhail told me that I would manage the Orioles as long as the temperature had the potential to break 90 degrees."
It has been six weeks since Orioles president of baseball operations Andy MacPhail fired manager Dave Trembley and nearly as long since the O's began interviewing candidates for the position. To go without a full-time manager for over a month and a half is almost unprecedented in the modern era - Billy Martin was practically fired and re-hired in less time. While former Yankees and Rangers skipper Buck Showalter seems to be in line for the job, there is no ultimate timetable for the O's finally making a decision. The Orioles must have a thing for longevity records. Cal Ripken, Jr. holds the record for most consecutive games played and former AAA affiliate, the Rochester Red Wings, played in the longest professional baseball game of all time (Ripken, of course, was on that club). While Baltimore seems happy to let interim manager Juan Samuel keep his hand on the wheel (current record, 14-21), here are some interesting numbers surrounding the Orioles since Trembley was let go.
64 - Number of World Cup games played. After Trembley was fired, the World Cup started. And ended. The first match was played on June 11, nearly a week after Trembley was fired. One month later, Spain had defeated the Netherlands, 1-0, for their first ever World Cup (the O's haven't lifted a Championship trophy since 1983).
13 - The American League's undefeated streak in the MLB All-Star Game came to an end at 13 (dating all the way back to 1996). Ty Wigginton was the lone Oriole sent to Anaheim. He played an inning in the field, but did not have an at-bat.
3 - As in the NBA's newest and most-talked about "Big 3" of LeBron James, Dwyane Wade and Chris Bosh. Since LeBron decided to take his talents to South Beach, the Cavaliers have had little luck attempting to rebuild. One might suggest that Cleveland fans spend their summer at Progressive Field but the Indians are last in their division with a record of 36-54 and have the third-worst record in the American League. The two worse records: Seattle and, you guessed it, Baltimore.
2 - Other teams in Major League Baseball that currently have interim managers. The Arizona Diamondbacks, who named Kirk Gibson interim manager on July 1 and the Florida Marlins have had Edwin Rodriguez at the helm since dumping Fredi Gonzalez on June 23. The Diamondbacks are currently not holding interviews and Florida owner Jeffrey Loria has announced that Gonzalez will be interim manager through the end of the season. So as long as MacPhail does make a decision the Orioles won't have the record for the number of games played without a permanent manager. And that has to be good news for Oriole fans.