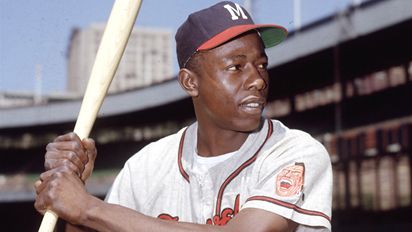 AP Photo
"Maybe now they'll finally stop calling me Hammerin' Hank."
July 20, 1976: Today, Hank Aaron did something he did quite often - he hit a home run. Only this one was the 755th of his career. It was his last, and the one that would leave him with the number that stood in the record books for the next 31 years as baseball's all-time record.
Aaron, who was traded from the Atlanta Braves to the Milwaukee Brewers in 1976, hit his final dinger over the left filed fence at Milwaukee County Stadium. Aaron, 42 years old and a 23-year Major League veteran, hit the home run off Angels right-hander Dick Drago. It was Aaron's 10th on the season. A member of the Brewers' grounds crew found the baseball and tried to return it to Aaron. He was later told he couldn't take the baseball home, which he did, and was fired for leaving the ballpark with club property.
Aaron's Major League career home run record of 755 stood until Barry Bonds broke it in 2007. Bonds now tops the list (762) with Aaron in second (755) and Babe Ruth in third (714). Aaron hit his 755 homers off 310 different pitchers, and July was his most productive month in terms of homers (he hit 152 in July for his career). Dodgers pitcher Don Drysdale was the guy Aaron got the best of most frequently - Drysdale gave up 17 round trippers to Aaron in his career. Aaron also set MLB records for total bases (6,856) and extra-base hits (1,477), both of which still stand.