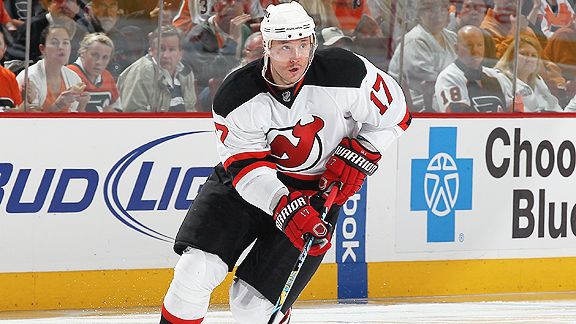 CONTRACT WITH THE DEVILS
Ilya Kovalchuk signed a 17-year contract with the Devils worth $102 million. 17 years. Rick DiPietro only got 15 years from the Islanders back in 2006. (Sucker.) And since Kovalchuk will be 44 years old once this contract finally expires, it takes its rightful place among the most memorably creative contracts in sports history:
- In 1981, a young Magic Johnson signed a 25-year, 25 million dollar deal with the Lakers.
- In 1984, Steve Young signed what was essentially a lifetime deal with the USFL's L.A. Express when they agreed to 43-year, $36 million dollar deal.
- In 2000, Bobby Bonilla agreed to let the Mets off the hook for the $5.9 million they owed him - but only if they agreed to pay him $1.2 million per year every year from 2011 to 2035. Which they did.
Magic Johnson | Steve Young | Bobby Bonilla
More from The Rundown, including Brett Favre's agent ranting about Brett Favre and the media, and why everyone should get a Chris Johnson, after the jump.
"[Expletive deleted], why does he have to be such a [expletive deleted] drama queen? Play, don't play, [expletive deleted], people are getting sick of it. I'm getting sick of it! Why does he have to talk to these people? What good does it do?"
- In the August issue of Men's Journal, Brett Favre gives his take on the private world and tough choices of a very happy man. But in this case, the very unhappy man is his agent, Bus Cook. And he's unhappy about Favre's dealings with the media.
EVERYONE SHOULD GET A CHRIS JOHNSON
The agent for Chris Johnson says he's reached an agreement with the Titans on a revised contract that will:
1. pay Chris Johnson more now, and
2. ensure that Chris Johnson reports with the rest of the team for training camp when it opens.
It's not quite the minimum $30 million guaranteed that he wanted, but at least he won't be the lowest-paid running back on the Tennessee roster anymore. And to celebrate, he went out against the Cubs and knocked in three runs, including his first career home run, and finished a double shy of the cycle. Wait, what? It's true.
Chris Johnson Gets Paid More (Now) | Chris Johnson Beats the Cubs