July 20, 2010 2:05 PM ET
STAYING OR GOING:
It's less than two weeks until the Vikings start training camp in Mankato, MN. If Brett Favre decides not to play this season and finally retire, the Vikings only have two quarterback on the roster:
Tarvaris Jackson
and
Sage Rosenfels
. Today on SportsCenter, ESPN NFL analyst Tim Hasselbeck spoke with Sage Steele about Brad Childress' visit with Brett Favre in Hattiesburg, MS and the QB's possible return to the gridiron.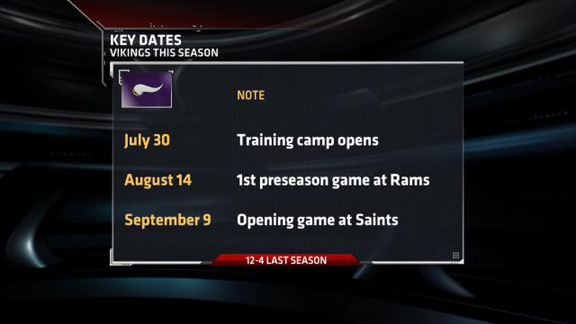 The Vikings open the preseason at the Rams on August 14th. Minnesota then travels to the SuperDome to take on the Saints to open the regular season.
Tags: Video, Brett Favre, SportsCenter, Brad Childress, minnesota vikings, Tim Hasselbeck, Favre, Vikings Camp