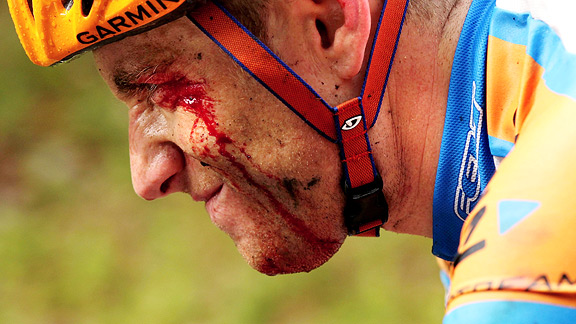 More bad blood at the Tour de France.
ROCHE UNLOADS ON TEAMMATE
In a race that has seen a fist fight between two riders, one rider kicked out for head-butting another, and the anger of a leader who lost it after an unwritten rule was broken (hello again, Dallas Braden and Alex Rodriguez), now we have Nicolas Roche and John Gadret, teammates with AG2R La Mondial. Roche was in 14th place when he suffered a flat, and asked Gadret for a wheel. Gadret refused and pedaled on. So after today's day of rest, Roche will start tomorrow in 18th place, more than 12 minutes back. Said Roche, "I had great difficulty in not putting his head through the nearest window...if John Gadret is found dead in his hotel room in the morning, I will probably be the primary suspect."
More of what's happening At This Hour, including the NHL statement explaining why it rejected Ilya Kovalchuk's contract with the Devils, and Urban Meyer to face the media, after the jump.
REMEMBER THAT 17-YEAR CONTRACT?
That deal with the Devils that would have paid Ilya Kovalchuk $102 million to play hockey until he was 44 years old? No, you don't. Because hours after the press conference that made everything look official, the NHL rejected it. "The contract has been rejected by the League as a circumvention of the Collective Bargaining Agreement. Under the CBA, the contract rejection triggers a number of possible next steps that may be elected by any or each of the NHLPA, the Player and/or the Club. In the interim, the player is not entitled to play under the contract, nor is he entitled to any of the rights and benefits that are provided for thereunder. The League will have no further comment on this matter pending further developments." Maybe the league was listening to the Devils own general manager, because Lou Lamoriello plainly said the league "shouldn't have these" kinds of deals. (Well-played.)
Burnside: Running with the Devils | Lamoriello: Running the Devils | Van Halen: Runnin' with the Devil
URBAN MEYER TO SPEAK TODAY
The SEC Media Days begin today, at which time Florida head coach Urban Meyer is expected to address the allegations that former Gator lineman Maurkice Pouncey took $100,000 from the representative of a sports agent in December. Alabama head coach Nick Saban and South Carolina head coach Steve Spurrier, each dealing with allegations of their own, will speak Wednesday and Thursday respectively.