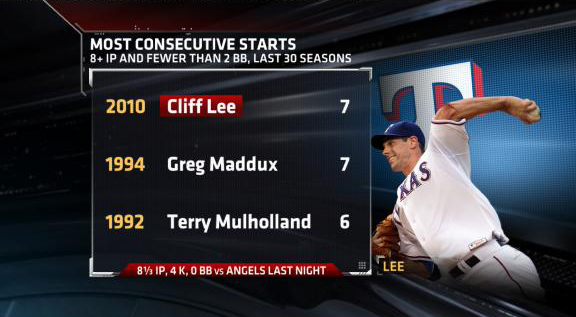 For the 7th consecutive start, Cliff Lee went at least 8 innings while walking 2 or fewer. Over the last 30 seasons, only Greg Maddux has accomplished that feat. And, in fact, in the divisional era, only Ferguson Jenkins had a longer streak. He went 8 straight back in 1974.
Go deeper inside the numbers, including, how Josh Johnson is tossing like Roger Clemens, and why Elvis has earned his money, after the jump.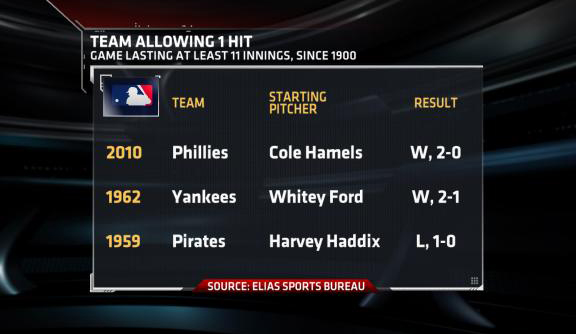 The Phillies surrendered just 1 hit to the Cardinals in 11 innings, and became just the 3rd team since 1900 to allow just one hit in a game that went at least 11 innings. The 1962 Yankees also accomplished that feat in a start by Whitey Ford, and the other was none other than Harvey Haddix, who retired 36 straight batters before an error and a double saddled him and the Pirates with a loss in the 12th inning against the Braves in 1959.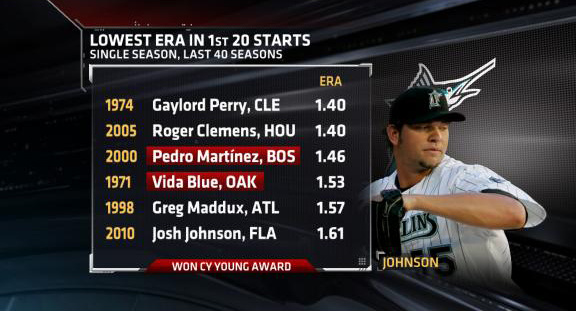 Josh Johnson's 6.1 innings of 1-run ball left him with a 1.61 ERA through 20 starts. That's the 6th-lowest ERA in a pitcher's 1st 20 starts in the last 40 seasons. The last pitcher with a better ERA in his 1st 20 starts was Roger Clemens, who posted a 1.40 ERA through 20 starts for the Astros in 2005.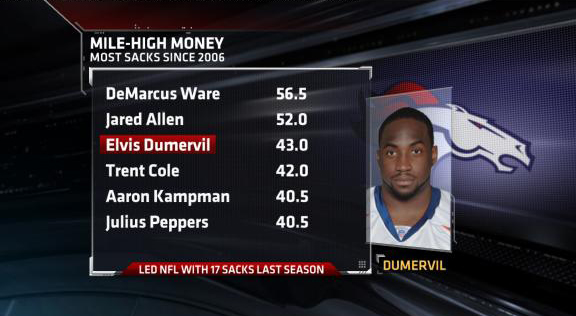 You can see why the Broncos wanted to lock up Elvis Dumervil. Since entering the league in 2006, only DeMarcus Ware and Jared Allen have recorded more sacks than Dumervil. It all came together last season when he led the league with 17 sacks, and earned his first Pro Bowl bid.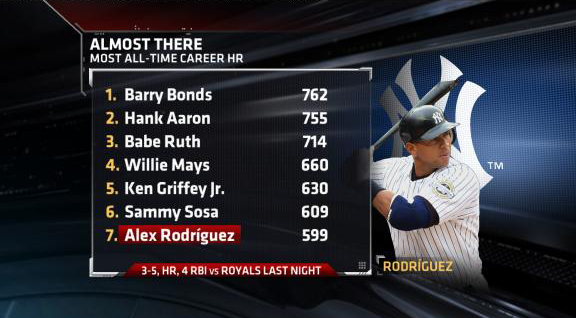 A-Rod hit homer number 599 as he is oh-so-close now to becoming the 7th member of the 600 home run club. In fact AROD, who turns 35 next week, is 163 home runs shy of tying Barry Bonds for the most home runs all-time.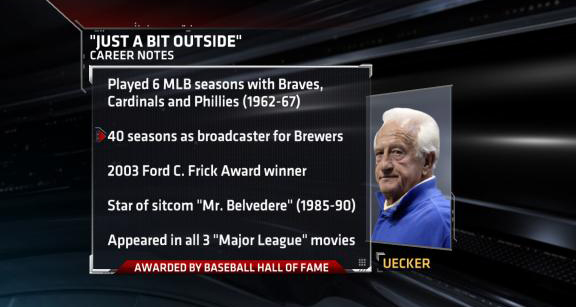 What a moment it will be when Bob Uecker, the long-time Brewers announcer, returns to the broadcast booth today after recovering from heart surgery. Uecker played 6 seasons in the big leagues with 3 teams before becoming a broadcaster. He was honored by the Baseball Hall of Fame in 2003 as the Ford C. Frick Award winner for his contributions to the game as a broadcaster. He did not win any awards for starring in the 80's sitcom Mr. Belvedere and appearing in all 3 "Major League" movies.