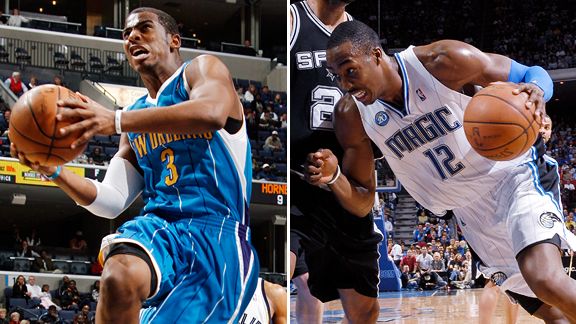 Getty Images
Sources: Paul Prefers Magic to Knicks
Chris Paul could see himself playing with the Orlando Magic, according to ESPN NBA Insider Chris Broussard. Paul believes the Magic, with Dwight Howard, would be a better fit for him and could offer more to his current team, the New Orleans Hornets.
Landis Again Accuses Armstrong
Lance Armstrong's former teammate, Floyd Landis told ABC News Nightline he saw Armstrong use performance-enhancing drugs. "If I'm taking on Lance Armstrong, then that should be evidence enough that there's a problem with the system, because I'm saying it -- a bunch of people did it," Landis said. An attorney for Armstrong, Tim Herman, adamantly denied Landis' allegations against his client, citing that Armstrong has undergone around 300 separate competition drug tests and never tested positive.
Steelers Give Tomlin Extension
The Pittsburgh Steelers showed they believe in Mike Tomlin by rewarding the head coach with a contract extension through the 2012 season. Tomlin became the youngest head coach in NFL history to win a Super Bowl beating the Arizona Cardinals at the age of 36.
Kobe Bryant is repairing his injured body this offseason.The Lakers announced Friday that Bryant underwent successful arthroscopic surgery on his right knee last week. Bryant is in the midst of rehab, and is expected to be ready for training camp, which is set to begin Sept. 25.
According to Yahoo! Sports, Manny Pacquiao will fight on November 13, but not against Floyd Mayweather Jr. Top Rank promoter Bob Arum says Pacquiao will fight Antonio Margarito for a vacant super welterweight championship, either in Las Vegas if Margarito can get licensed or in Monterrey, Mexico, if he can't.
Royals' DeJesus Done for the Season
Kansas City Royals OF David DeJesus is done for the year, according to the Kansas City Star. A medical examination Friday revealed a complete ligament tear in his right thumb. DeJesus is scheduled to undergo surgery Monday in Cleveland, with recovery typically lasting 10 weeks.
Uecker Happy to be Back at the Ballpark
Brewers Hall of Fame broadcaster Bob Uecker returned to the radio booth Friday for the first time since his April 30th heart surgery. Uecker will do every home game, health permitting, and some select road trips.
Keselowski Says Probation Was Good
Brad Keselowski says it's good he was put on probation by NASCAR, along with Carl Edwards. "I think what it says is NASCAR doesn't want me to go out there and intentionally wreck Carl. That's great. I didn't want to," Keselowski said Friday. Both Edwards and Keselowski were placed on probation through the end of the season for their last-lap bumping incidents in the Nationwide Series race last weekend at Gateway International Raceway in Madison, Ill.
Bobcats' Stephen Jackson's Home Robbed
Three armed men broke into the South Charlotte home of Bobcats' Stephen Jackson. The men held Jackson's wife at gunpoint early Wednesday morning before locking her in a bathroom and stealing valuables. Jackson wasn't home at the time of the crime. No one has been charged. The Charlotte Bobcats declined to comment.
NBA Fines Wolves, President for Beasley Comments
The NBA fined Minnesota Timberwolves president David Kahn $50,000 for his comments about newly-acquired forward Michael Beasley's marijuana use. Kahn told 1500 ESPN Twin Cities that Beasley used "too much marijuana" in the past but Minnesota's new power forward is maturing and was worth acquiring from Miami. The league also fined the team $50,000 Friday for what it called inappropriate comments.