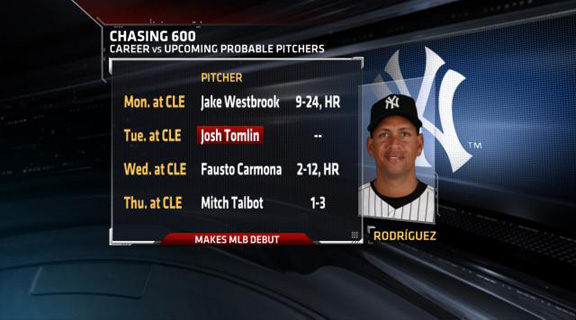 CHASING HISTORY: The Yankees travel to Cleveland as they start a 4-game series at Progressive Field, where A-Rod has hit 10 career home runs. He's 9-24 with a HR against Monday's scheduled starter Jake Westbrook. Tuesday he'll face Josh Tomlin, making his major league debut and Wednesday, he'll face Fausto Carmona, whom he does a have a home run against.
Yankess-Indians Preview | A-Rod OK after being hit | Granderson homers twice, A-Rod has 3 RBIs as Yankees outlast rain, Royals | Highlight
After the jump, see who is the highest money earners in NASCAR, why Dan Haren is the Man and Spain's impact in sports this year.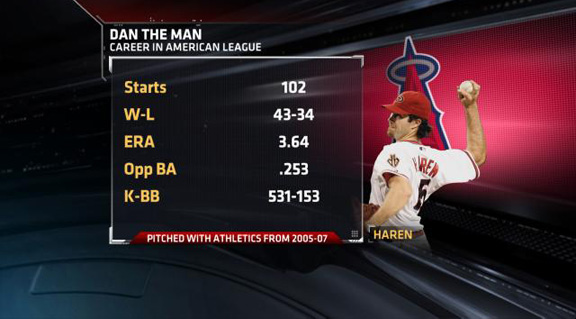 BACK TO THE AL: Dan Haren is headed back to the AL. He pitched in the AL West as a member of the A's from 2005-07. He went 43-34 in those 3 seasons with an ERA of 3.64 while holding opponents to a .253 average. He finished in the Top 8 in the AL in strikeouts in each of his 3 seasons and had a stirke-out to walk ratio of nearly 3 and a half to 1.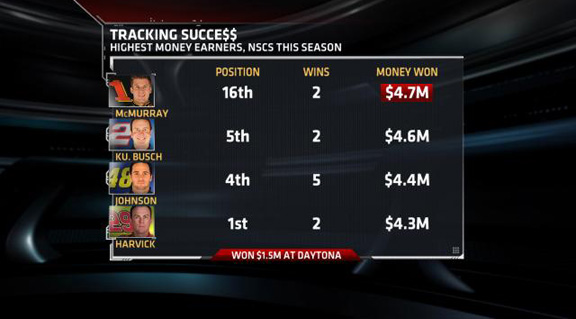 EARNING THEIR KEEP: Despite sitting outside the Chase in 16th place, Jamie McMurray is the highest money earner among Sprint Cup drivers this season. He's won 2 races and has three 2nd-place finishes. Nearly a third of McMurray's winnings came from his Daytona 500 victory.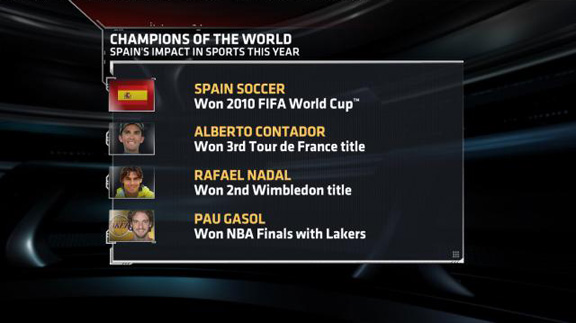 GLORIOUS SPAIN: Pretty good year for Spain. Spain beat the Dutch to win the World Cup for the 1st time. Alberto Contador took home his 3rd Tour de France title. Spain has won the last 5 tours. Clay court master Rafael Nadal won his 2nd Wimbledon title and Pau Gasol helped the Lakers to a NBA title in June. That's some serious hardware.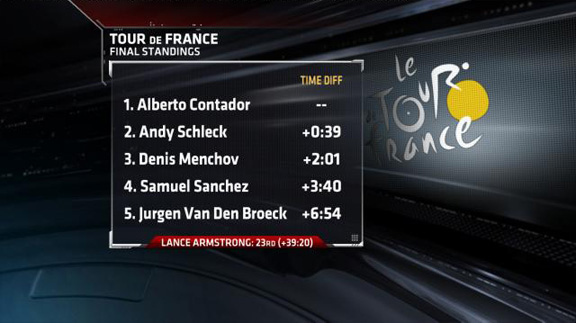 TOUR de FORCE: Alberto Contador wins his 2nd straight Tour de France and 3rd in the last 4 years. He finished 39 seconds ahead of Andy Schleck, the fifth-smallest margin of victory in Tour de France history. Seven-time champion Lance Armstrong, racing in his final Tour de France, finishes 23rd.
Note: The Elias Sports Bureau and ESPN Stats and Information group contributed to this report.