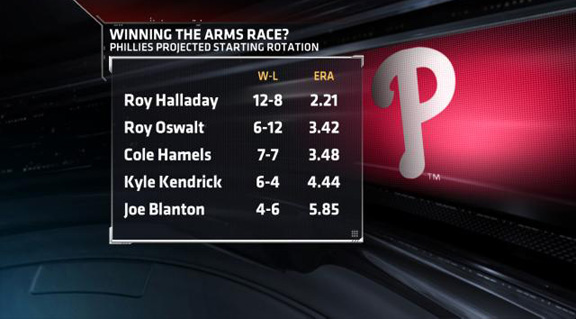 ARMED AND DANGEROUS: Put Roy Oswalt in a rotation with Roy Halladay and Cole Hamels and the Phillies have to like their chances of catching the Braves in the NL East. Oswalt, by the way, is 4-0 lifetime at Citizens Bank Park. It's the same mark he's posted in his postseason career as well. The three-time All-Star can extend his new team's winning streak to nine when he makes his Phillies debut in the opener of a three-game set with the host Washington Nationals tonight at 7:05PM.
No guarantees in Roy Oswalt deal | Oswalt, $11M to Phillies in four-player deal
After the jump, find out much the Oswalt acquisition is worth to the Phillies playoffs chances and why the Redskins need to get Albert Haynesworth in shape.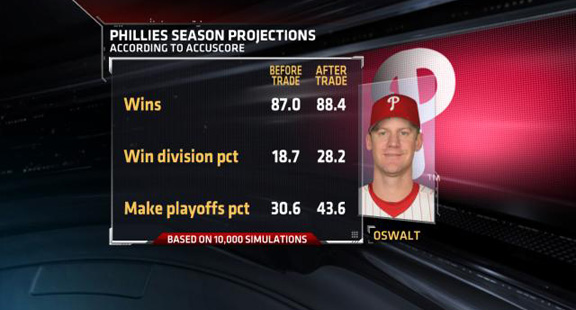 NO GUARANTEES FOR PHILLIES: According to our friends at Accuscore, who ran 10,000 simulations of the remainder of the Phillies season, the Oswalt acquisition is worth nearly a win and half. That doesn't sound like much but it increases their chances of making the playoffs from 30.6 percent to 43.6 percent. Currently the Phillies are 2.5 games behind the Atlanta Braves in the NL East. The Phillies have 6 games remaining against the Atlanta Braves September 20, 21, 22 and they close out the season in Atlanta on October 1, 2, 3.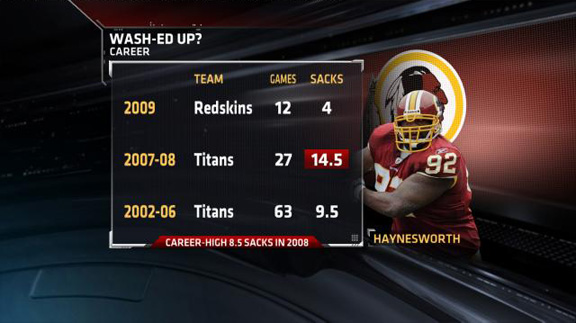 FOR WHAT IT'S WORTH: Albert Haynesworth had more sacks in his final 2 seasons with the Titans than his first 5 years in Tennessee. Haynesworth also had 4 forced fumbles in 2008 with the Titans. Then he got paid and Haynesworth was far from imposing when he was on the field with the Redskins last season. But, over the past three seasons, he ranks in the top 3 among defensive tackles in tackles for loss, forced fumbles and sacks.
Haynesworth flunks conditioning again | Washington Redskins Home Page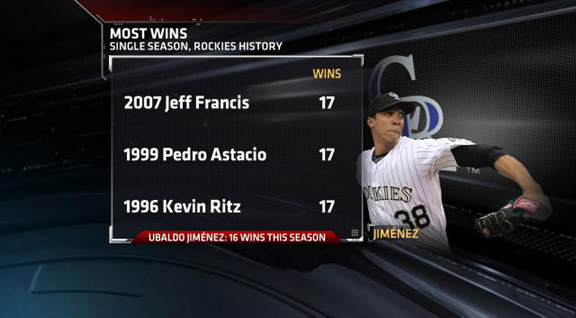 CY YOUNG FRONT-RUNNER?: Ubaldo Jimenez is now just 1 win shy of matching the single-season Rockies record for victories, and it's not even August. With his win yesterday, Jimenez also surpassed his previous best of 15 wins set last season. Jimenez was back to All-Star form Thursday night and the Rockies found their groove at the plate.
Game Recap | Box Score | Highlight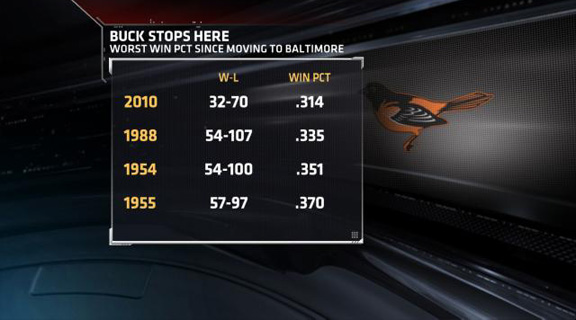 ORIOLES HOPE SHOWALTER CAN BUCK LOSING TREND: It's arguably never been this bad for the Orioles, as the team is on pace to have it's worst winning percentage since moving to Baltimore in 1954. The Orioles have been outscored by 190 runs this season, the worst differential in the majors. Former MLB manager and ESPN analyst Buck Showalter has been hired as the Orioles' next manager. Showalter takes over a franchise with the 2nd-worst record in the American League since 2000. In each of Showalter's three prior managerial stops, his team added at least 12 wins in his second year at the helm.