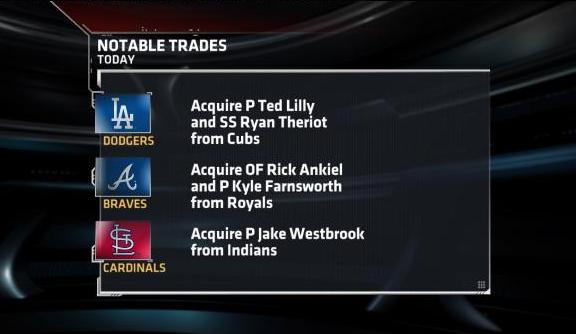 The MLB Trade Deadline passed at 4pm ET and there were plenty of deals to talk about. Players like Lance Berkman, Ted Lilly, Jake Westbrook and Ryan Ludwick among others all changed teams Saturday. Take a look at those as well as some other deals that just snuck in before the deadline.
Swollen Knee Limits Haynesworth
Albert Haynesworth was at Washington Redskins practice Saturday, as an observer. After showing up with a swollen knee, Haynesworth did not take a conditioning test Saturday morning that coach Mike Shanahan says he must pass before practicing. The All-Pro DT's training to complete the conditioning test may have led to the injury.
Martin Prado will miss at least a week after breaking the knuckle on his right pinkie finger. The Braves leadoff hitter injured his hand diving for home plate Friday night during the 10th inning of a 6-4 win over the Cincinnati Reds. Prado has a career-high 13 homers, leads the NL with 138 hits, and ranks third in batting average at .315.
A-Rod's Hunt for 600 Continues
A dramatic 9th inning home run won the game for the Yankees, but it didn't come off the bat of Alex Rodriguez. Robinson Cano blasted a long home run off Tampa closer Rafael Soriano to give the Yankees a 5-4 win. A-Rod could not get over the 600 hurdle again tonight, going 0 for 3 with a walk.
Roethlisberger Fears Boos at Practice
Steelers QB Ben Roethlisberger says he was worried about fan reaction before he took the field on Saturday at training camp. Roethlisberger practiced with the team for the first time since a woman accused him of sexual assault last March. "Driving up here today I was talking to my dad, and for the first time it hit me about what is about to happen and — who knows? I got scared. I really did," said Roethlisberger.
Browns Reach Deal With Joe Haden
The Cleveland Browns agreed to terms with No. 7 overall pick CB Joe Haden Saturday. The former Florida Gator's deal is said to be a five-year, $50 million contract, including $26 million in guarantees.
Tampa Bay, McCoy Agree on Contract
The Tampa Bay Buccaneers have agreed to terms with No. 3 overall pick Gerald McCoy. The former Oklahoma DT agreed to a 5-year, $63.42 million contract that included $35 million in guaranteed money. McCoy is expected to start from opening day for the DL-depleted Bucs.
Harvin Taken Carted Off the Field
Vikings receiver Percy Harvin was carted off the practice field on Saturday with an unknown injury. The NFL's offensive rookie of the year made the catch of the day during 7 v 7 drills before falling to the ground. He appeared to be fine following the play, and the injury is not considered serious.
Eagles Jackson Injured at Practice
Eagles receiver DeSean Jackson was injured Saturday catching a pass from Kevin Kolb during workouts. Jackson appeared to injure his back but was seen limping on his right leg as he left the field. An NFL source told ESPN NFL Insider Adam Schefter that the injury is not serious and that the electrifying wide receiver was "fine."