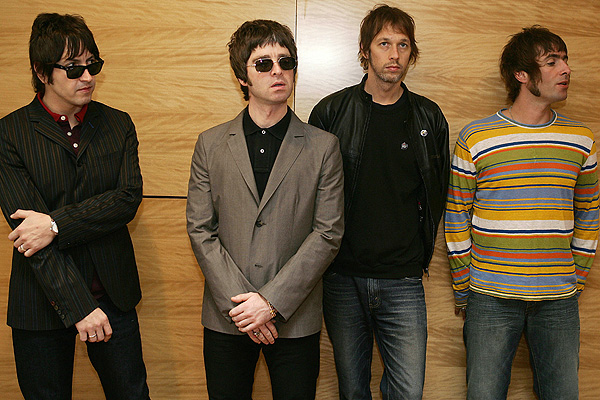 Mike Clarke/AFP/Getty Images
Argentina's Carlos Tevez and Lionel Messi attempt to keep low profiles in a Liverpool pub.
Like Independence Day (the holiday) and the premiere of "Despicable Me" (the movie), the 2010 World Cup final is receding faster and faster in our rear-view mirrors. However, that doesn't mean the biggest movers and shakers of the tournament haven't been making noise since then. Let's take a peak at some of the World Cup headliners and see how the rest of their summers have gone:
Lionel Messi
The last time we saw FIFA's reigning world player of the year, he was making a goal-less tournament exit at the hands of Germany. Now, word on the street is that the mop-topped Barcelona star is attempting to front an Oasis cover band after he got an introduction to their music from Argentina teammate Carlos Tevez. This comes on the heels of Messi's attempt to get the band back together if the Albicelestes took home the Cup. Any ideas about the title of their album? "What's the Story, Maradon-y?" We hope England pulls a similar stunt with Wayne Rooney's Outkast cover duo.
Diego Maradona
Meanwhile, Messi's coach (aka the world's biggest sideline distraction) refused to budge on making any strategic or staff changes. As a result, he was voted out of the job by the Argentine Football Association, leaving his Pele-feuding, reporter-assaulting, bidet-insisting ways up for grabs. Brazil's Dunga is out of work, too. Maybe they can swap, causing heads to burst from Rio to Buenos Aires.
The vuvuzela
After trying to make a comeback in venues such as a Florida Marlins game, the ubiquitous plastic horns were banned from other MLB matches, numerous English Premiership clubs, and, most recently, FIBA's world basketball championships in Turkey. Hopefully the noisemakers have as much longevity as South Africa's worst contribution to pop culture since the plot to "Lethal Weapon 2."
Thierry Henry
France couldn't catch a break after Henry's infamous handball in the qualifier against Ireland, and the team's mutiny sent the forward straight to the Presidential office for a little tete-a-tete 'splaining session with Nicolas Sarkozy. Now that mess is out of the way, Henry's gone Stateside, where he's joined MLS' New York Red Bulls. Meanwhile, Mexico's captain, Rafael Marquez, just signed with NY Monday in what is turning into North American soccer's version of the Miami Heat (minus any burning jerseys).
Iker Casillas
Spain's goalie sent millions of hearts a-flutter when he put the smooches on his reporter girlfriend moments after posting the win over the Netherlands. We think he just woke up from partying about ... yesterday.