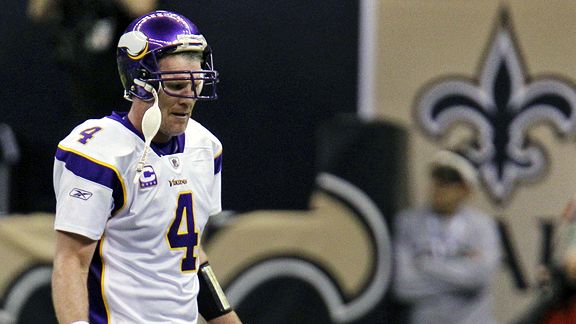 AP Photo/Bill Haber
Report: Brett Favre To Call It Quits
Brett Favre's wavering nature makes it impossible to call anything official, even when it seems to be that way, but NFL sources, told the Minneapolis Star-Tribune the quarterback began informing Vikings personnel late Monday night that he has decided to retire -- for a third time. According to ESPN's Adam Schefter, Favre has sent text messages to teammates saying, This is it. The man who has retired before, looks like he might be doing it again.
Sources: Ndamukong Suh and Lions Agree
ESPN NFL Insider Adam Schefter reports that the Detroit Lions and Ndamukong Suh reached agreement on a five-year contract. The two sides have agreed on the terms of the deal, but still are still off on the language of it. The deal will not be signed until the language is completed, but the terms are agreed to. The numbers were projected to come in north of $12 million a year, which means the deal will be worth over $60 million dollars. According to ESPN's John Clayton, Suh is guaranteed $40-million. There now are two first-round picks without deals: Seattle's No. 6 overall pick Russell Okung and Buffalo's No. 9 overall pick C.J. Spiller.
Reports: Shaquille O'Neal, Celts Close
Free-agent center Shaquille O'Neal said Tuesday that he hopes to make a decision about his future soon and multiple reports indicate the Boston Celtics are "close" to signing the four-time NBA champion. The Celtics can offer only the veteran minimum salary ($1.35 million for a veteran of 10-plus NBA seasons), but Cleveland could facilitate a sign-and-trade with Boston if the 38-year-old center requires more money. O'Neal has made nearly $291 million in basketball contracts alone, including $20 million with the Cavaliers last season.
Phillies' Ryan Howard Put On DL
All-Star first baseman Ryan Howard has been put on the 15-day disabled list by the Philadelphia Phillies because of a sprained left ankle. The Phillies say the sprain is moderate. The 2006 NL MVP was hurt Sunday while sliding into second base at Washington. He is hitting .292 with 23 homers and a league-leading 81 RBIs.
Red Sox Put Youkilis On DL, Activate Lowell
The Boston Red Sox put Kevin Youkilis on the disabled list with a thumb injury and activated Mike Lowell. Youkilis tore a muscle in his right thumb in the first inning of Monday night's loss to the Indians and was removed from the game two innings later. Boston acknowledged that Youkilis' season could be over. Tuesday night, Lowell hit a two-run homer on the first pitch he saw and the Boston Red Sox beat Cleveland 3-1.
Nationals Place Adam Dunn On Waivers
According to ESPN The Magazine's Buster Olney, the Nationals have placed first baseman Adam Dunn on the waiver wire. Teams have 48-hours to put a claim on Dunn. If a team does claim Dunn the Nationals can pull his name back off waivers, let him go or work out a trade with the claiming team. Olney reports that if a team claims Dunn it will most likely be the Rockies or Giants preventing him from going to an American League contender.
Ozzie Guillen Tries To Clarify Remarks
Ozzie Guillen addressed the reaction from his controversial comments regarding Latino players in baseball. He said he was disappointed because he believed many of his comments were taken out of context to make it look as if he had an issue with MLB's treatment of Latino players, or that he was criticizing the White Sox organization. He also said he was not resentful of Asian players in the major leagues, as some have interpreted. Ozzie said, "Please, please read everything I say from the beginning, and then you judge me."
Goodell Tightens Vick's Restrictions
NFL Commissioner Roger Goodell will not suspend Michael Vick after the shooting outside Vick's birthday party but that doesn't mean he's not watching the Eagles QB. People involved with Vick's reinstatement process told ESPN's Sal Paolantonio that Goodell will add new restrictions to the 3-time Pro Bowler. It could go so far as to have Vick's whereabouts monitored by the league to make sure he doesn't have another lapse in judgement.
Haynesworth Unfit For Fitness Test. Again.
Six days in, and Albert Haynesworth still hasn't passed the fitness test that would allow him to start practicing with the Redskins. He did not make an attempt to pass it before Tuesday's morning session, a day after he aborted the same test due to knee irritation. He did participate in a solo walk-through of some plays.
LaDainian Tomlinson is expected to back up Shonn Greene at running back this season for the Jets. He says he's happy with that role, but his former teammates with the Chargers don't sound so sure about that. QB Philip Rivers told the Union-Tribune, "That got real touchy the last 18 months." -- Referring to when Darren Sproles started to emerge as a consistent threat to L.T. and he added the team won't miss his demands to be treated like a star. "I don't know how everyone feels or if they felt it," Rivers said. "Maybe it was a little bit of a relief. Maybe it's a feeling of, 'I can do a little more without wondering what he thinks.'" And Antonio Gates took it from there. "Sometimes you would get the sense that people felt bigger than the team," he said. "Not to say it was an issue, but we know it's not an issue for sure now."
The Associated Press contributed to this report.