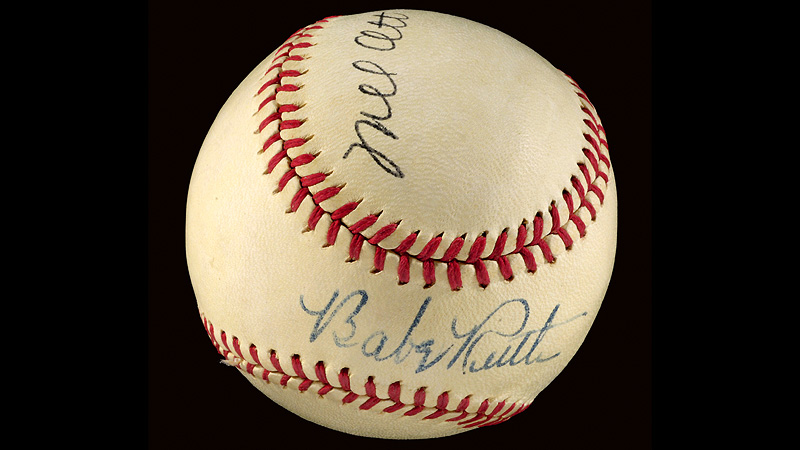 Hunt Auctions
No, this was not the ball used in "The Sandlot."
The FBI made a cameo at the National Sports Collectors Convention in Baltimore Thursday, but it wasn't to purchase a Brett Favre signed high school photo, although that's an amazing piece of memorabilia. For the third consecutive year the FBI sent an agent to sports memorabilia's largest annual show to investigate fraudulent activity. It's believed indictments could be handed down before summer's end in an effort to rid the industry of shill bidding, counterfeit memorabilia and card doctoring.
Nobody wants to shell out $149.99 for a copy of NASCAR Challenge signed by Bill Elliot (awesome item!) only to find out two years later it wasn't Elliot who signed it. It goes without saying purchasing a 500 Home Run ball from your local deli is a bad investment, but sometimes spotting a fraud isn't so easy. Fortunately, we happen to know a thing or two about spotting fake memorabilia. Here's a few 'helpful hints' in case you're looking to make a purchase anytime soon.
Run Your Finger Carefully Across the Signature: Because fake autographs are often mechanically generated (stamps), a bogus piece of memorabilia will likely feel flat, whereas a real signature has texture. Important Note: Make sure your hands are clean. A Tide pen will not remove chicken parmesan stains from your 8X10 photo.
Use Common Sense: If you can find a real Babe Ruth signature on a baseball that looks like this, you can have any job you'd like at ESPN. It's not possible. Ruth died in 1948, 44 years before Selig ever became commissioner. Be aware!
If You're Buying on eBay: Only purchase memorabilia with a photo attached. Most importantly, make sure the seller isn't hiding their feedback. Buying sports memorabilia online is similar to playing poker: until you see the goods, assume your opponent is bluffing.
Where There's Smoke, There's Fire: Be skeptical before donating your hard earned money. The odds are if you see a Michael Jordan rookie card on sale for $1999.99 $599, something is wrong. As a buyer, you have the right to ask the dealer about your upcoming purchase. And just a reminder, if the dealer's answer to why his price is so cheap is, "I'm close friends with the athletes; they sign stuff all the time for me," you should run and hide.