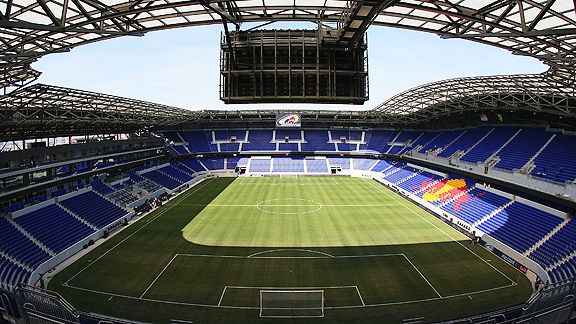 Mike Stobe/Getty Images for New York Red Bulls
Red Bull Arena: All it needs are a few road flares in the stands.
Now that David Beckham has been patrolling the LA Galaxy's Home Depot Center since 2007 and Thierry Henry has joined the New York Red Bulls, soccer fans might feel that their sport has finally arrived in the United States. While the U.S. is still a ways away from joining the big European powers, it is inching its way towards respectability with its first soccer 'riot.'
OK, so it's less full-blown hooliganism and more of "pandemonium" due to a traffic jam and ticket snafu that left thousands of American soccer fans out in the cold of Candlestick Park, but the mere fact that there would be enough American soccer fans to cause mass panic goes to show you that futbol is a bit more popular now than in the NASL days.
Check out some more signs that soccer is getting close to its true "arrival", after the jump.
Soccer Specific Stadiums
What is this, the MLB? Soccer stadiums have been popping up all over the United States as though there isn't a Great Recession. These sort of building projects require publicly-approved financing. Philly even received a new stadium before their team played an official game. The Red Bull Arena is so soccer-centric that it's even accessible by public transportation.
Rapid Expansion
There was the Seattle Sounders in '07, the Philadelphia Union this season (complete with internet meme) and in 2011, we'll have the Portland Timbers. Expansion is so American that other leagues come to us for their expansion needs.
Rankings
Forget standings based on things like results (you know win-loss records, for example). It's not an American sport if it isn't ranked in some way.
National Pride
A shared national experience not unlike 1980's Miracle on Ice. And wouldn't you know it, the World Cup gave us just that, where a match against an opponent like Slovenia could be called "a thrilling draw" with most casual fans in agreement. Only two sports events can provide that sort of shared national euphoria: the World Cup and Olympic team sports (and even then, only sports we're underdogs at).
Now all the MLS needs is a proper derby. Los Angeles and New York are creating a nice rivalry after both teams signed some big names this year. But it just won't feel completely like "soccer" until a couple of American towns host two different teams on opposite sides of the tracks separated by family divides over several generations.