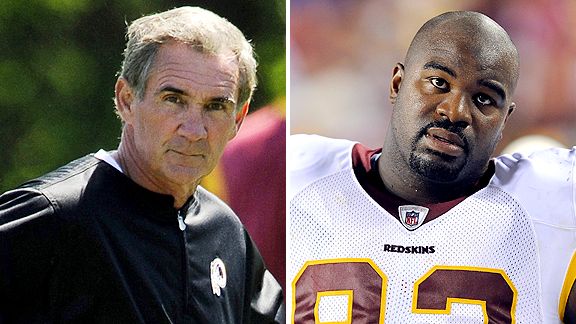 US Presswire/Getty Images
Source: Redskins Plan Test for Saturday
The third time could be a charm for Redskins DT Albert Haynesworth. Haynesworth is expected to take Washington's conditioning test Saturday morning, a league source told ESPN NFL Insider Adam Schefter. Haynesworth took and failed the test the first two days of training camp. Due to swelling in his knee, he hasn't taken it since. Redskins coach Mike Shanahan has said that his high-priced defensive tackle will not be allowed to play until he passes the conditioning test.
Tiger Woods Struggles to 2-Over 72
Day two for Tiger Woods at the WGC and again, it wasn't pretty. Woods, who shot a 2-over 72 Friday following a first-round 74, shot consecutive rounds over par for the first time in 12 appearances at Firestone Country Club. Tiger's 146 left him in a tie for 75th out of 81 players, with the second round still in progress.
Spiller, Bills Reach 5-Year, $25M Deal
Good news for Buffalo Bill fans, C.J. Spiller's holdout ended Friday. Spiller signed a five-year, $25 million deal, according to ESPN.com's John Clayton. Included in the deal, according to a source, is $20.8 million in guarantees. He was the ninth choice in the 2010 draft. Through Friday morning, he'd missed 11 practices since camp opened July 29th.
Seahawks, Russell Okung Agree to Deal
Left tackle Russell Okung is no longer unemployed. The Seattle Seahawks and their top pick agreed to a six-year deal Friday.
The deal is for six years, $48.5 million, sources told ESPN senior NFL analyst Chris Mortensen, with more than $29 million in guaranteed money. The maximum worth of the contract is $58 million, sources said.
Marcus Spears to Miss 4-6 Weeks With Sprained MCL
Another blow to the Dallas Cowboys, this time on defense. Starting defensive end Marcus Spears suffered a sprained MCL in his left knee with about 20 minutes left in Thursday's practice. Spears is expected to be sidelined for four to six weeks, with his status for the season opener against Washington on September 12 still in question.
Coaches Vote Tide Overwhelming No. 1
The USA Today Preseason Top 25 coaches' poll is out. The defending champs (Alabama) are right where they were when last season ended. This time, they took 55 of the 59 first place votes. Ohio State took the other four, and they're second. Boise State is 5th -- the highest preseason ranking ever for a team from outside a conference with an automatic bid.
Knicks name Isiah Thomas Consultant
Isiah Thomas is back with the Knicks, as a consultant. Thomas, who will continue coaching at Florida International, told ESPN.com Friday that he accepted a more formal and unique consulting position with his former employer to aid Knicks general manager Donnie Walsh in any decision he needs assistance, including draft picks, trades and personnel decisions.
Tyson Gay is fast. Really fast, and he proved it again Friday. Gay shocked the world by beating Usain Bolt in the 100 meters in Stockholm, with a time of 9.84 seconds. Bolt was second in 9.97.
The Tampa Bay Rays lost Carlos Pena to the DL Friday, retroactive to Aug. 1. The first baseman has not played since Saturday, when he felt something pop in his right foot as he ran the bases after hitting a pop fly against the New York Yankees. Pena, who is batting .212 with 23 homers and 68 RBIs, is eligible to come off the DL on Aug. 16.
NCAA Releases Academic Progress Rate Scores for Coaches
Kentucky coach John Calipari earned mostly passing grades on his report card. West Virginia's Bob Huggins did even better, earning perfect marks each of the past two seasons. The two men, often criticized for their players' academic performance, had better-than-expected scores in the NCAA's first Academic Progress Rate for coaches. The NCAA released coaches' scores in six sports - baseball, football, men's and women's basketball and women's indoor and outdoor track - from 2003-04 through 2008-09 Thursday.