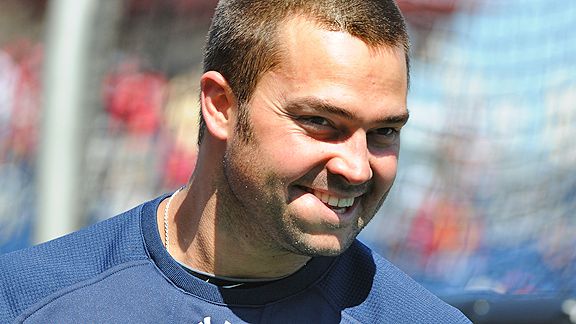 Al Messerschmidt/Getty Images
Before he was required to rock the Yankees haircut, Nick thought about fronting his own pop boy band, "The Swisher Siblings."
The Jonas Brothers are huge softball players, so much so that they've built a team around themselves along with their dad and touring crew called the Road Dogs. Kevin pitches, Joe is a right fielder, and Nick plays third base. They've managed to squeeze in a game before their latest big tour kickoff in Chicago, unfortunately falling to employees of Marquis Jet, the company that flies them to tour destinations, 14-12. Perhaps they should consider hiring Barry Bonds as a "roadie" for a little more run support, or Jennie Finch if Kevin's man enough to surrender the ball to a real pro.
When asked who they'd like to play next, Kevin said "The Yankees." Um, Kevin, not to get too far ahead, but you just surrendered 14 runs to the Marquis Jet scrubs. Take it slow there, cowboy. "I think it'd be fun," added Nick. "I think the Yankees would be a challenge." One slight clarification, Nick. The Yankees are certainly a challenge ... for a team like the Minnesota Twins. Better focus on your next game, which happens to be against the mighty ESPN G.O.A.T.S. on August 13 in New Britain, CT. The charity event will feature "The Talented Mr. Roto" Matthew Berry, Mike Greenberg, Michelle Beadle of "SportsNation," NFL analyst and former All-Pro defensive end Marcellus Wiley, and "Baseball Tonight" analyst and former MLB player Eduardo Perez.
The boys also offered up a tantalizing rivalry against another band of brothers. "Kings of Leon," Kevin said. "We challenge Kings of Leon to a game of softball. That'd be rad. They're some Southern boys. I bet you they play some baseball." They shouldn't be a problem, however, since that group is particularly susceptible to something as mundane as pigeon poo. Still, as long as they're in the softball throwdown business, here are a few other teams they should consider taking on:
Smash Mouth Footballs
It's time to see what the jock-iest band of all time next to Hootie and the Blowfish is made of. Speaking of which ...
Here's hoping the Dolphins aren't the only team that'll make Darius Rucker cry.
Poison Ivies
Vince Neil and Tommy Lee must still have some pop in the tank from their glory days playing the MTV Rock N' Jock Softball circuit.
Bell Biv Devoe Motownphillies
We just want to see the Phanatic dancing to "Poison" (the song, not the band).
Justin Bieber Beavers
As long as Justin is going to front American culture, he might as well get to know the national past time. Kid needs to work on his delivery, though.