August 7, 2010 11:00 PM ET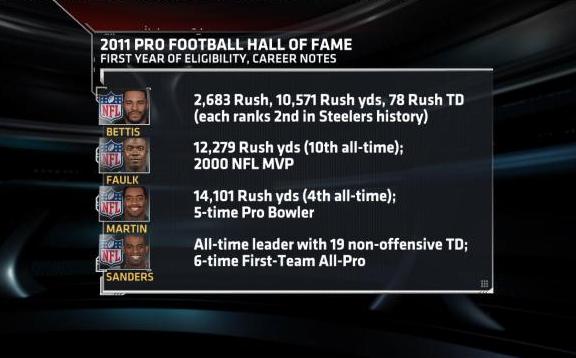 Congratulations to the Pro Football Hall of Fame
Class of 2010
. The 2011 Class could include Jerome Bettis, Marshall Faulk, Curtis Martin and "Prime Time".
Jerome Bettis
rushed for more than 10,000 yards with the Pittsburgh Steelers, second in team history. "The Bus" won Super Bowl XL with the Steelers.
Marshall Faulk
was part of the "Greatest Show On Turf", earned MVP honors in 2000 and won Super Bowl XXXIVwith the St. Louis Rams. Another running back,
Curtis Martin
ranks 4th all-time in rushing yards. Last, and certainly not least,
Deion Sanders
is the all-time leader in non-offensive TDs. "Prime Time" won Super Bowl XXIX with the San Francisco 49ers and Super Bowl XXX with the Dallas Cowboys.
Note: The Elias Sports Bureau and ESPN Stats and Information group contributed to this report.
Tags: Pittsburgh Steelers, MVP, Deion Sanders, Curtis Martin, Marshall Faulk, Jerome Bettis, 2010 Class, Super Bowl XL, SUPER BOWL XXXIV, SUPER BOWL XXX, SUPER BOWL XXIX, 2010 Pro Football Hall of Fame, 2011 Class