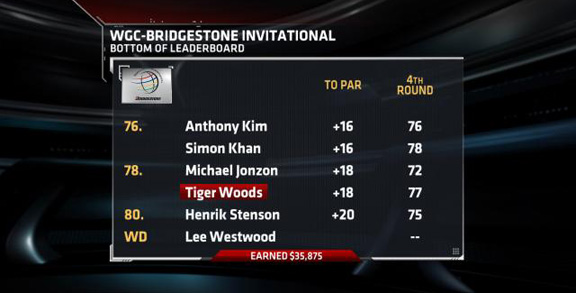 BOTTOM OF THE BARREL: Here's the bottom of the leaderboard, where you don't usually find Tiger's name. He finished ahead of just one person who completed 4 rounds, that was Henrik Stenson. Tiger still earned $35,875 dollars - which is higher than the average starting salary for a teacher in 44 states.

World Golf Championships-Bridgestone Invitational Leaderboard | Tracking Tiger | Tiger goes down in flames at Firestone
After the jump, see who the MGM Mirage has set as the early favorite to win the PGA Championship, and the one player who understands Brandon Morrow's pain of losing a no-no in the bottom of the ninth with two outs.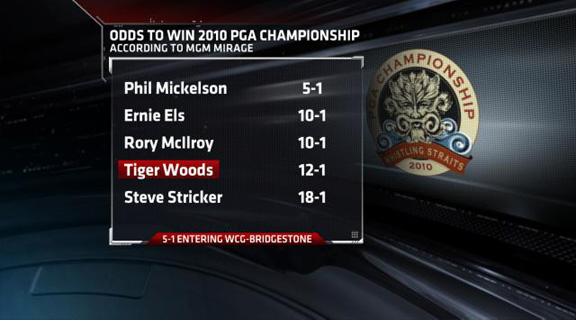 EARLY FAVORITE: Here are the odds to win the 2010 PGA Championship, the final major of the year taking place at Whistling Straits in Wisconsin this week. The favorite is Phil Mickelson at 5-to-1. Tiger is 12-to-1, but before this weekend he was 5-to-1. World Number 3 Lee Westwood is off the board due to injury and an unknown status.

Tour Whistling Straits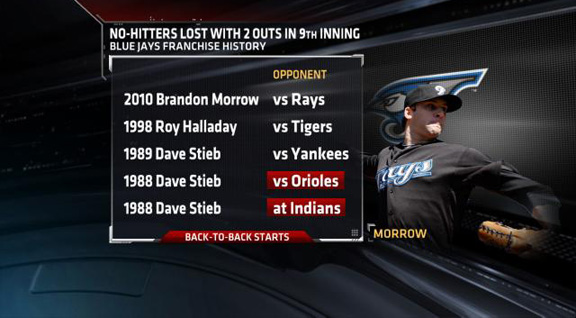 THE ONE THAT GOT AWAY: One guy who doesn't quite feel Brandon Morrow's heartache is Dave Stieb. Morrow is the 3rd pitcher in Jays history to lose a no-hitter with 2 outs in the 9th inning. It happened to Stieb three times! Stieb lost a no-hitter with 2 outs in the 9th inning in EACH of his final 2 starts of the 1988 season, and then it happened again in August of 1989.

Game Recap | Box Score | Highlight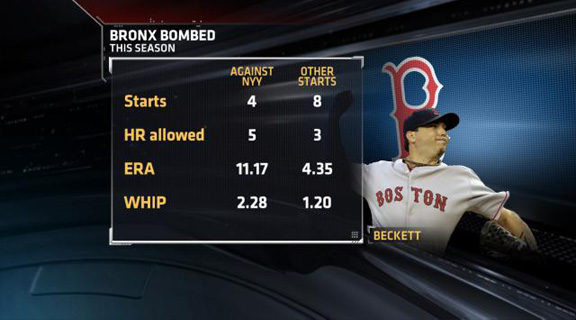 BOMBERS BLAST BECKETT: Safe to say the Yankees have had Beckett's number this season. In four starts this season, Beckett has given up 24 earned runs in 19 and one-third innings and has a WHIP well over 2.

Game Recap | Box Score | Highlight | Monday Augu 9, Game Preview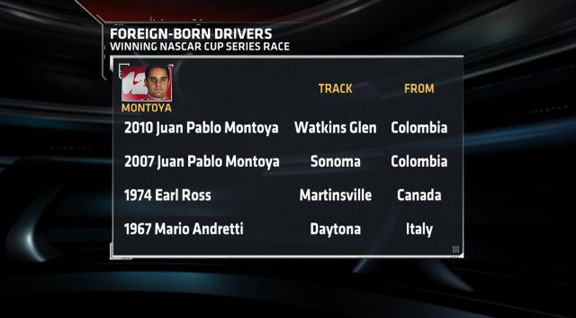 ROAD WARRIOR: Juan Pablo Montoya picks up his 2nd career NSCS win, both on road courses. He becomes the first foreign-born driver to win twice in the Cup series. His 74 laps led Sunday goes down as the 3rd-most by a driver ever in a Cup series race at Watkins Glen.

Race Recap | 2010 Sprint Cup Standings