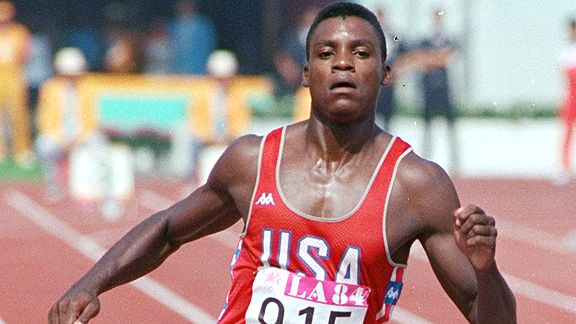 AP Photo/Dave Tenenbaum
Carl Lewis - always a patriot.
August 11, 1984: Carl Lewis wins his fourth gold medal of the 1984 Olympic Games when the United States team wins the 400-meter relay. It was the cap to Lewis' first Olympics appearance that saw him win the 100-meter dash, the 200-meter dash and the long jump. It was the first time an Olympian had taken gold in all four events since Jesse Owens accomplished the feat at the 1936 games.
It was the start of an incredible Olympic career for Lewis. He won the gold medal in the 100-meter dash (after a Ben Johnson's disqualification) and the long jump in 1988. At the '92 games, he won the long jump again as well as the 400-meter relay. And in 1996, Lewis earned his ninth, and last gold, when he won the long jump for an unprecedented fourth consecutive Olympics.
Lewis effectively dominated the long jump for a decade as he successfully defended the event in every major competition until losing to Mike Powell at the 1991 World Championships. Although, he'd avenge his loss to Powell by out-leaping him for the gold medal at the 1992 Olympics.