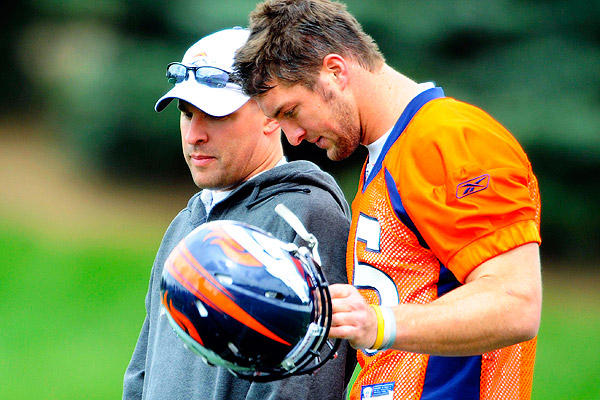 Ron Chenoy/US Presswire
"Between you and me, you think you can snag me a pair of those limited edition shoes of yours?"
Say what you want about his quarterbacking skills, but from a marketing perspective Tim Tebow rates second to none. The former Heisman Trophy winner, who's dominated NFL jersey sales without taking an NFL snap, has now infiltrated the sneaker industry. In conjunction with EA Sports College Football 2011, Nike released the Tim Tebow Trainer 1.2 on August 6th. The sneaker features the Gators' blue and orange color scheme and commemorates Tebow's "Promise" speech from Sept. 27, 2008.
Now for the bad news. Nike only released 500 pairs of the shoe and they sold out in five minutes. However, there is some light at the end of the tunnel. If you're still planning on dressing up as Tim Tebow for Halloween you can acquire a pair of the limited edition shoes on eBay for a tad under $500. Not enticed? What if we told you the sneakers come with a free "Tebow Knows" Nike tee!
Of course, you could save your money for the inevitable Tim Tebow Trainer 1.5. Nothing has been announced as of yet, but it's only a matter of time until Nike issues a pair of aqua socks commemorating "The Tear" from Florida's 32-13 loss to Alabama in the 2009 SEC Championship Game. Which reminds us, whatever happened to aqua socks?
And if you don't want to spend any money at all, but still want to show your love for the Broncos future quarterback, borrow your friend's trimmer and go to work on your do. Nothing spells Tebow love like a fresh monk-cut.