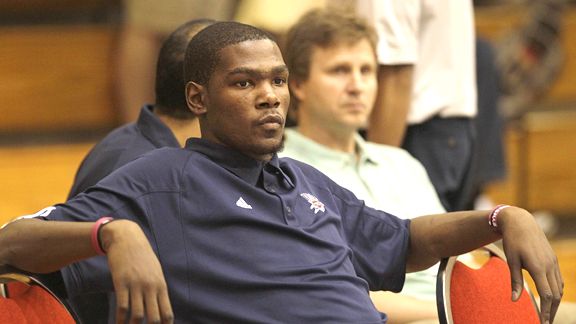 AP Photo/John Raoux
And poor Durant just got over not getting picked to play on Artest's dodgeball team.
A bunch of NBA superstars were invited to the White House Sunday to play a basketball game with President Obama in front of an audience of wounded war veterans. And when we say NBA superstars, we mean guys like LeBron, Kobe, D-Wade, Melo, Chris Paul and Derrick Rose. If you said, "hey, wait a minute, the reigning NBA scoring champ isn't on that list," you'd be right. Which, coincidentally, is just what the reigning NBA scoring champ, Kevin Durant, said to himself (and the media) Tuesday.
Durant, who grew up right outside Washington D.C., seemed a little miffed about the so-called snub. Well, as miffed as the ever-modest Durant can be: "I would have loved to be there. I'm from DC, and I never had a chance to go the White House. It would have been cool. But there's always next year. Hopefully, they'll do it again and I'll be invited."
Clearly, the matter concerns Durant, who is in New York training with Team USA Basketball. But he shouldn't be worried about being on the outside of the NBA's in-crowd, because there are a lot of good excuses for why Durant never got his invite:
It purely was a matter of national security – as in securing Team USA's chances of earning a medal at the upcoming FIBA World Championship in Turkey. Durant's pretty much the guy Team USA Basketball is pinning its hopes on, so President Obama couldn't risk having KD bust an ankle in a silly presidential pickup game, could he? It would just be un-American.
President Obama sent Durant's invite to his old address in Seattle. And we all know that's not valid anymore.
Ever the politician, Obama didn't want to look like he was playing favorites by inviting the hometown kid. If you'll notice, Durant's childhood buddy Michael Beasley and D.C.'s newest hoop sensation, John Wall, weren't on the guest list either.
Like so many people, Obama tried to invite KD through twitter. And, like so many people, Obama had the wrong account. Next time he'll know, @kevindurant35 = bad, @kdthunderup = good.
Obama's daughters are scared of spiders. Obviously.
Like so many of us, Obama can't look Durant in the face after seeing him perform as "Velvet Hoop" in Hyperizers.
It was a revenge snub. Two weeks ago, Durant made his own list of people he'd like to see wearing his shoes this year. On it? Anthony Morrow, Terrence Williams, and Nate Robinson. Not on it: President Barack Obama.
And let's be honest: is anyone from Texas really welcome in the White House these days?