MINNESOTA MASHERS: The Twins lead the AL Central over the White Sox by a game after winning two of three in Chicago this week. The Twins slugged their way to the top, mashing seven home runs in three games, and were clutch the whole series, knocking in twelve of their nineteen runs with two outs.
Game Recap | Box Score | Highlight | MLB Standings
After the jump, see what's wrong with Jonathan Papelbon's fastball and why times are changing in the NBA.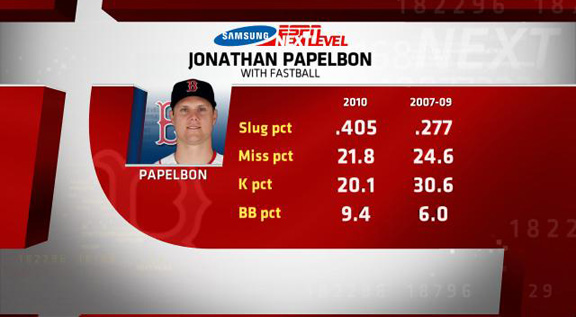 DOWN AND OUT: We go Next Level to look at Jonathan Papelbon's struggles, and hitters are all over his fastball. He doesn't get as many swings-and-misses with the heater and as a result he's isn't getting strikeouts. He's already allowed five home runs with his fastball this season, as many as all of last year.
Game Recap | Box Score | Highlight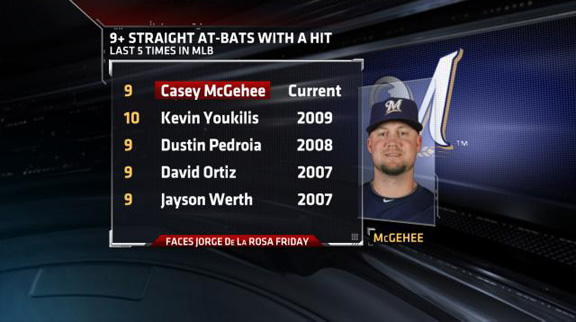 RED HOT: Casey McGehee has hit safely in nine straight at-bats, setting a franchise record for consecutive hits, and three short of the major league mark. The previous four players to accomplish that feat have combined for twelve All-Star appearances so far in their careers.
Game Recap | Box Score | Highlight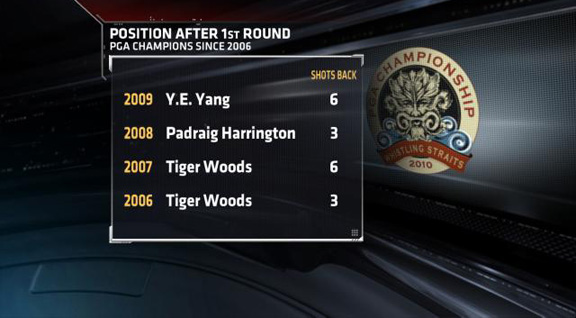 BIRD HUNTING: Based on recent PGA Championships, any golfer within several shots of the lead after the 1st round is in contention for the title. The last four PGA Championship winners have been at least three shots back after 18 holes. 46 players started play Friday under par.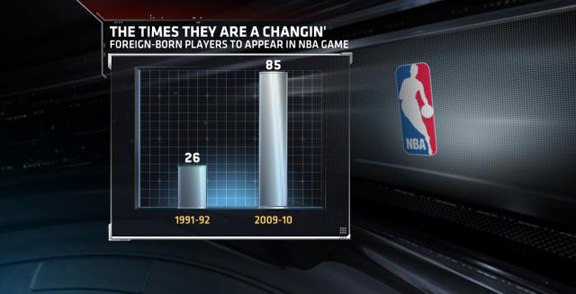 LEAPS AND BOUNDS: Prior to the Barcelona Olympics, there were 26 foreign-born players who appeared in an NBA game in the 1991-92 season. That was 7% percent of all players. In the 2009-10 season, 85 non-American born players got into an NBA game, 19% of all players.