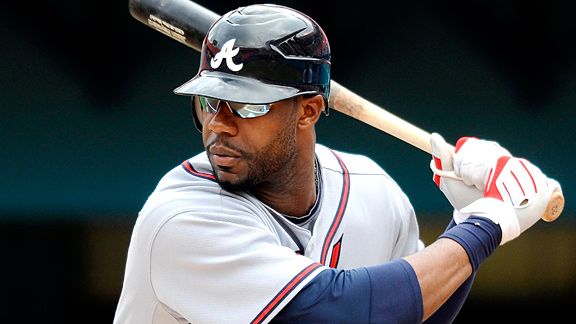 Steve Mitchell/US Presswire
Four score and seven days ago, sports statistics started to get a little trendy.
When you work in the SportsCenter newsroom, you tend to see just about every sports statistic in your email inbox, multiple times per day. And as we've learned over the years, each week, one number tends to stand out from the crowd. This week, of course, was no different from the rest and something caught our eye: the number 4. Believe it or not, there wasn't even any news relating to Brett Favre (and his number 4 jersey) to kick-off the trend.
Don't believe us? We'll let the number 4 speak for itself:
4 - Number of pitchers drafted in 2009 to start a game in 2010 after Braves lefty Mike Minor took the mound (and the no decision) in Atlanta's loss to Houston on Monday night. The other three quick starters this season are Mike Leake, Andrew Oliver, and Stephen Strasburg. The last season in which more than four pitchers started a game in the season following their draft year was 1991 - the same year Minor, Leake, and Oliver turned 4 years old.
4 - Number of players in MLB history to homer on their 21st birthdays. Birthday boy Jason Heyward of the Braves hit his 12th home run on the season on Monday night, joining Ted Williams (1939), Frank Robinson (1956), and Alex Rodriguez (1996). That kind of company beats a party at Chuck E. Cheese's any day. Sorry, creepy animatronic band members.
4 - Number of bases stolen by Boston's favorite kleptomaniac, Jacoby Ellsbury, on Monday night. In doing so, Ellsbury tied a team record, matching the total set by current Red Sox announcer Jerry Remy on June 14, 1980. What does this mean? Well, keep an eye out for an Ell Dawg stand on Yawkey Way - and don't steal anything! You can leave that to Jacoby.
4 - Number of consecutive home runs hit by the Diamondbacks on Wednesday night. In order, Adam LaRoche, Miguel Montero, Mark Reynolds, and Stephen Drew went yard in the - are you ready for this? - fourth inning off of Milwaukee's Dave Bush to lead Arizona to an 8-2 victory over the Brewers.
4 - Number of runs scored in the bottom of the 8th inning and the number of runs scored in the bottom of the 9th inning by the Phillies on their way to erasing a 7-run deficit and winning in walk-off fashion against the Dodgers on Thursday night. It's the biggest comeback for the Phils in the 8th inning or later since a 10-run turnaround on August 21, 1990 against - you guessed it - the Dodgers.
4 - Number of consecutive games in which the Mets shut out the Phillies at Citi Field this season after a 1-0 New York victory Friday night. In four meetings at Citi Field this season, the Mets have outscored Philadelphia, 17-0. The only other team the Mets blanked in four straight games at home? The Pirates in 1988.