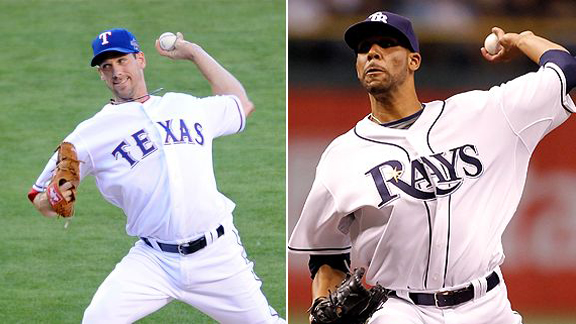 Getty Images
Texas Rangers (67-49, 28-26 away) vs.
Tampa Bay Rays (71-46, 36-24 home)
7:10 PM ET -- Tropicana Field
Starting Pitchers
Texas: Cliff Lee (10-5, 2.57 ERA)
Tampa Bay: David Price (15-5, 2.84 ERA)
The Texas Rangers and the Tampa Bay Rays could be headed for an October showdown. For now, the mound matchup in tonight's series opener should be more than enough to give the game a postseason feel. Two of baseball's premier left-handers, Cliff Lee and David Price, face each other for the first time at Tropicana Field. The two biggest leads in baseball's playoff races belong to Texas -- up 8 1/2 games on the Angels in the AL West -- and Tampa Bay, which boasts a 5-game edge over Boston for the wild card. The Rays also pulled within one game of New York for the East lead after a 3-2 win over Baltimore on Sunday. Cliff Lee has given Texas the ace its rotation lacked since arriving in a July 9 trade, while David Price can become the first AL starter to 16 victories.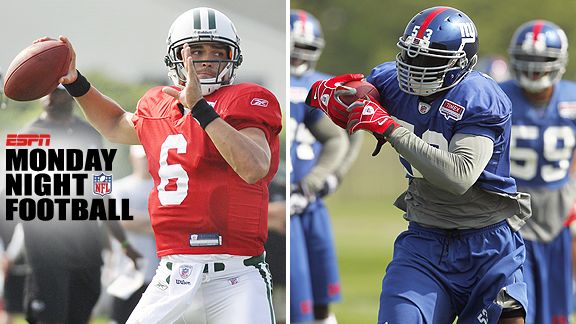 AP Photos
New York Giants vs. New York Jets
8:00 PM ET -- New Meadowlands Stadium -- ESPN
Bragging rights and a happy housewarming are on the line as the Giants and Jets each open up their exhibition seasons at the New Meadowlands Stadium in East Rutherford, NJ. For the Jets, we'll get a peek at Rex Ryan & Co., which will unveil four key additions -- running back LaDainian Tomlinson, wide receiver Santonio Holmes, cornerback Antonio Cromartie and pass-rusher Jason Taylor. Cromartie will start -- possibly Tomlinson, too -- with all four expected to see action in the first quarter. The Giants believe there is still some of that 2007 Super Bowl magic left in their defense and that they can return to that dominant form. Defensive ends Justin Tuck and Osi Umenyiora are feeling better than they did last season and defensive tackles Barry Cofield, Chris Canty and Rocky Bernard are all healthy after battling injuries last season. Safety Kenny Phillips is making his way back from microfracture surgery which ended his season after week two last season and cornerback Aaron Ross is injury-free again. The teams traditionally meet in the third game of the preseason, but both wanted to be part of the unveiling of their new $1.6 billion, 82,500-seat stadium to football fans. It will be a Jets home game, with the stadium's exterior lit up in green.
Stats LLC and the Associated Press contributed to this report.