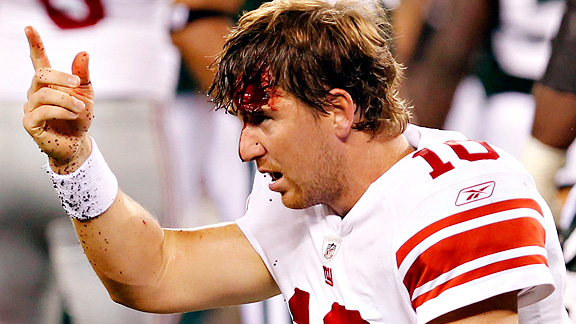 Tim Farrell/US Presswire
Giants QB Eli Manning received a 3-inch gash to his forehead after a hit in the 2nd quarter of Monday night's preseason game with the Jets. The Giants won 31-16.
Mets Official: K-Rod Hurt In Fight, Faces Surgery
New York Mets closer Francisco Rodriguez suffered a torn ligament in his right thumb while allegedly striking the grandfather of his children last week at Citi Field, a team official said. Rodriguez, who pitched Saturday with discomfort in his return from a two-day team suspension, was examined Monday at the Hospital for Special Surgery in Manhattan. Team doctors recommended surgery, but a date for the procedure has yet to be scheduled. Rodriguez was charged with third-degree assault and second-degree harassment as a result of the incident in the family room at Citi Field last Wednesday.
Rangers' Nelson Cruz To DL For Hamstring For 3rd Time
The Texas Rangers placed outfielder Nelson Cruz on the 15-day disabled list with a strained left hamstring. Cruz suffered the hamstring injury as he ran the bases in Saturday's game against Boston. An MRI on Sunday showed no tear in the hamstring muscle, but Cruz did have some inflammation. This is Cruz's third stint on the DL this season and all of them are hamstring related. He had a strained right hamstring in late April and early May and had a left hamstring strain in late May and most of June. He's hitting .320 with 16 homers and 64 RBI in 77 games for the Rangers this season.
Sources: Expect Carmelo Anthony To Leave Nuggets
According to Ric Bucher of ESPN The Magazine, all signs continue to point toward the eventual divorce between Carmelo Anthony and the Denver Nuggets. League sources say it is now a matter of when, not if, Anthony and the Nuggets will go their separate ways. Anthony is weighing whether to sign a three-year, $65 million extension offered by the Nuggets. His dilemma, league sources say, is what affords him the best chance of continuing his career elsewhere: signing and convincing the team to then trade him; or, not sign the extension, thereby forcing the team to move him rather than risk losing him next summer as a free agent.
After the jump -- Corey Pavin has Tiger Woods high on his Ryder Cup list, Steve Smith and Percy Harvin return, Marc Colombo and Colt McCoy out, while the Phillies get good news and bad news.
Tiger Woods High On Corey Pavin's Ryder Cup List
After finishing tied for 28th at 2-under par in the PGA Championship, Tiger Woods sits on the outside looking in of the Ryder Cup standings. Woods is currently 12th, with only the top 8 players automatically making the team. He will need captain Corey Pavin to select him as a captain's pick, which will be announced September 7. Pavin says Tiger is high on his list to be one of his four picks for the Ryder Cup, without saying for sure he would take the world's No. 1 player.
Panthers WR Steve Smith Is Back
Panthers WR Steve Smith has been activated off the PUP list and has caught live passes for the first time since breaking his left arm in during a flag football game in June. The four-time Pro Bowl selection remains on schedule to play in the regular-season opener at the Giants. The Panthers need a healthy Smith. After deciding not to re-sign veteran Muhsin Muhammad, the 10 other receivers on the roster have combined for 48 NFL catches. Smith has 574 catches, a franchise-best 58 touchdowns, along with three plates and up to 20 screws in his mended arm.
Percy Harvin Returns To Practice
Vikings wide receiver Percy Harvin returned to the practice field Monday. Harvin left the team after the July 31 practice for personal reasons and then his migraine headaches flared up. Last week, the team placed him on the roster exempt list and presented him with a letter indicating he needed to report back to the team within five days.
Cowboys Marc Colombo Could Miss Up To A Month
Marc Colombo is expected to undergo arthroscopic surgery and miss from two to four weeks. The starting right tackle for the Cowboys hurt his right knee in practice Sunday despite wearing a brace on both knees. His knees have been a lingering problem since the Bears made him a first round pick back in 2002.
Browns Rookie QB Colt McCoy Not Practicing
Cleveland Browns rookie quarterback Colt McCoy is not practicing because of a minor thumb injury. McCoy hit his hand on the helmet of one of his teammates on a throw in the third quarter of the Browns' 27-24 win at Green Bay. Browns coach Eric Mangini said today that McCoy is "fine" and will only miss a day or two. Mangini expects McCoy, a third-round pick, to play in Saturday's home game against St. Louis. McCoy finished 5 of 10 for 25 yards and two interceptions before leaving with the injury. The former Texas star is expected to be Cleveland's third-string quarterback this season, spending the year learning behind Jake Delhomme and Seneca Wallace.
Phillies Chase Utley Ready To Return Soon
The Phillies could get Chase Utley back full-time as soon as Tuesday. The second baseman has been rehabbing a torn ligament in his right thumb and says his thumb feels good and is not bothering him at all. He went 0-3 for the single-A Clearwater Threshers Sunday.
Phillies first baseman Ryan Howard will not return to the lineup Tuesday, the first day he'd be eligible to come off the disabled list as he continues to recover from a sprained left ankle. Howard still had his ankle heavily taped Sunday and was walking with a limp.
Heat's Haslem Facing Felony Charge
When Udonis Haslem was arrested Sunday afternoon, he was charged with a third-degree felony for possession of more than 20 grams of marijuana. He could face up to five years in prison and a $5,000 fine. He was also cited for speeding and having an illegal window tint. He was released late Sunday night.