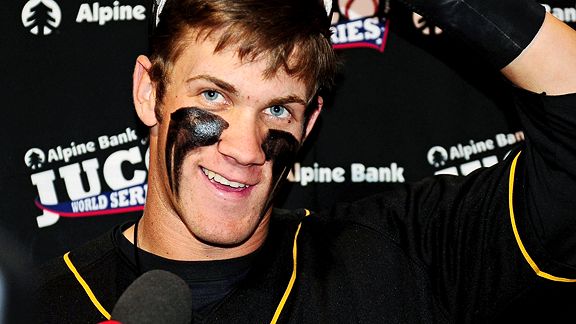 NATIONALS TREASURE
Minutes Seconds before the midnight deadline, the Nationals reached an agreement with Bryce Harper, the top overall pick in this year's draft. It's a 5-year deal worth $9.9 million. That's a lot of eye-black, and much better than the NHL's top pick did with the Oilers. Taylor Hall got a 3-year deal worth $2.8 million. But not better than the NBA's top pick did with the Wizards. John Wall got a 3-year deal worth $13.8 million. But the NFL's top pick is laughing at all of them all the way to the bank. Sam Bradford got a 6-year deal worth $78 million from the Rams.
More of what's happening At This Hour, including what Jerry Jones wants from Roy Williams, and when Big Ben will next play for the Steelers, after the jump.
JONES TO WILLIAMS: "MAKE SOME PLAYS"
As the Cowboys faithful heckle Roy Williams at camp (see: one catch out of six thrown his way so far in preseason play), Jerry Jones has some advice for his wide receiver on how to get back in their good graces. "Make some plays," he said. "The one place you've got the greatest chance to rehab public opinion, no matter what you're rehabbing, is big plays. Big plays and winning games do wonders about the way people look at you.'' Dallas next plays at San Diego on Saturday night.
ROETHLISBERGER TO RETURN THIS WEEKEND
The Steelers are at the Giants on Saturday night, and Mike Tomlin hasn't tipped his hand about what he's got planned for Ben Roethlisberger. But offensive coordinator Bruce Arians has. "Ben's going to play this week," Arians said after practice yesterday. Roethlisberger did not play Saturday against the Lions, and says he doesn't know yet how he'll be used in New York, saying, "I'll take whatever Coach gives me. Him and I have not talked, and he doesn't make those announcements at team meetings, so I'm sure we'll find out later in the week."