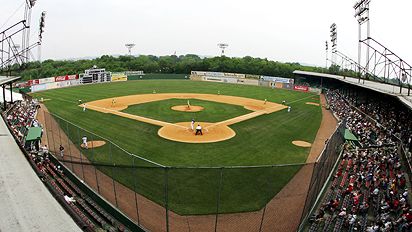 Marvin Gentry/US Presswire
Don't worry, Rickwood. You don't look a day over 85.
August 18, 1910: Over the past 100 years, hundreds of ballparks have come and gone. Ebbets Field was the home of baseball in Flatbush from 1913-1960. Shibe Park hosted Connie Mack and the A's for nearly half a century before the White Elephants moved to Oakland with a layover in Kansas City. The Tigers played ball in Tiger Stadium at the corner of Michigan and Trumbull in two different centuries. But Birmingham's Rickwood Field, which opened its gates 100 years ago today, has outlived them all.
Although the minor league Barons moved out in 1987, Rickwood survives and continues to hold games throughout the baseball season. For the first half-century of its existence, the park was segregated and held both minor league and Negro League games, with the first integrated game falling on April 17, 1964.
The park was once the second-oldest in professional sports, trailing behind Chicago's Comiskey Park by a a month and a half. Rickwood, modeled after Philadelphia's Shibe Park and Pittsburgh's Forbes Field, has hosted some of baseball's greatest players from Babe Ruth to Satchel Paige. As far as the Majors go, next up on the centennial list will be Boston's Fenway Park (1912) followed by Chicago's Wrigley Field (1914). Although if everything goes according to plan, Cleveland's League Park (1910) may rise again.