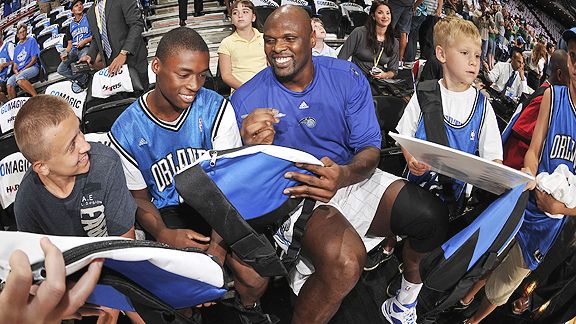 Fernando Medina/NBAE/Getty Images
Adonal Foyle signs autographs for young Orlando fans while demonstrating the principles of light refraction.
Geeks, sports nerds, lend us your ears. Adonal Foyle has decided to retire after 13 years in the NBA. He'll also step down from his position as first vice president of the National Basketball Players Association. The Orlando Magic's former center was never a member of an All-Star team, but he left a mark as one of the league's resident brainiacs and its foremost Vincentian-American. Though Foyle left school early (Colgate, the small but highly-regarded liberal arts college), he returned to graduate with a history degree. Magna cum laude, no less. So don't feel terribly sad for Adonal. Who's going to turn down a job applicant who's been inducted into the CoSIDA Academic All-America Hall of Fame?
While we're easily impressed by stats, we're just as appreciative of the mental game. Here are a few ways we'll remember the big guy:
Adonal Foyle, Philosopher
Just got thumped by the Lakers? Join the club. But it takes a certain spirit and perspective to turn a thrashing into a teachable moment. Perhaps he could translate his experience into a sports psychology job with the Clippers.
Adonal Foyle, Bard
His verses (blank or otherwise) may not gain the notoriety of Ron Artest's rhymes, but if we had to cast our vote for athlete Poet Laureate, there's hardly anyone in his league. Next stop, StorySlam battler?
Adonal Foyle, Philanthropist
Foyle started two non-profit organizations during his playing days. The first is Democracy Matters, a non-partisan organization that seeks to reduce the influence of private money in politics. The second is Kerosene Lamp, which promotes athletics and academics for youth. We doubt he did all that just to make his grad school application look more impressive.
Adonal Foyle, Book Club President
C'mon Adonal, when are you getting to "Twilight"?