August 18, 2010 11:00 PM ET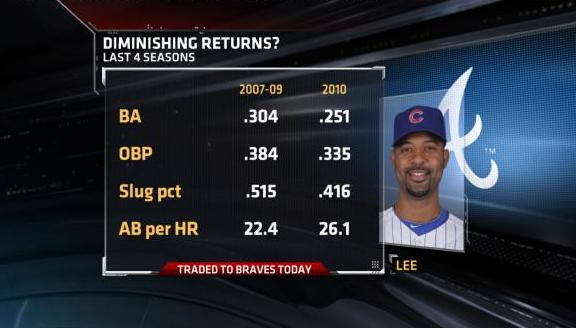 Ladies and gentlemen,
we have a trade
. The
Chicago Cubs
sent 1B
Derrek Lee
to the
Atlanta Braves
for three pitching prospects, the team announced Wednesday. Lee was not the same on the field this season for the Cubs. His batting average, on-base percentage and slugging percentage all his lowest since the 1999 season. However, Atlanta will gladly welcome his late season HR production (55 career HRs in September) as it tries to fend off the
Phillies
who trail by 2.5 games in the NL East.
Note: The Elias Sports Bureau and ESPN Stats and Information group contributed to this report.
Tags: Philadelphia Phillies, Chicago Cubs, Atlanta Braves, Derrek Lee