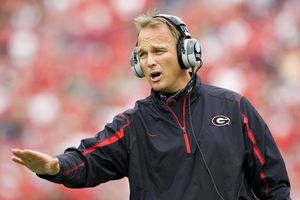 Icon SMI
Luckily, Richt took off the headset before making a splash.
Georgia football coach Mark Richt dove into a pool earlier this week, and it created quite a bit of buzz. Partly because it was off a 10-meter diving platform, but mostly because the coach was fully clothed. It was a cool moment – it even made Top Plays on SportsCenter – but how does it compare to other all-time attention-grabbing sports dives? And we're not talking about these kinds of awesome dives. Or even these kind. We're talking about dives that have a little bit of a "What the ... " factor. Such as:
Well, keeping it in the college competition division, there's Tyler Hansbrough's famous dive (OK, jump) into a frat house pool from a little more than two years ago. Hopefully, that little dip in the pool didn't leave him with swimmer's ear, ultimately contributing to an inner ear infection that sidelined him in the NBA last season. Now that he looks to be on the mend, let's hope he does all his celebrating above water.
From jumps in the pool to flops on the soccer field, our next example is perhaps one of the greatest football flops of all time: Rivaldo's dive from a game against Turkey in the 2002 World Cup. Notice Rivaldo's fine form as he gets hit in the knee but clutches his face in agony. We don't know how an Olympic diving judge would score it, but our acting experts give it a 10 our of 10.
And if a soccer player can get himself on a list of great divers, surely a basketball player can. Especially when that basketball player is Shaq, and his dive is a full layout three rows into the stands. Let's hope he doesn't do the same thing at his new digs at the Garden. Because Boston fans have some bad memories surrounding guys diving into the stands.
No dive, however, is better than Thornton Melon's (Rodney Dangerfield) at the conclusion of "Back to School" (spoiler alert!). After legendary 80s villain Bill Zabka fakes a cramp to avoid diving, Melon is forced to take his place and perform the illustrious "triple lindy." There's not a sports fan out there who hasn't dreamed of landing the triple lindy in his friend's pool. Richt, you have your work cut out for you next year.