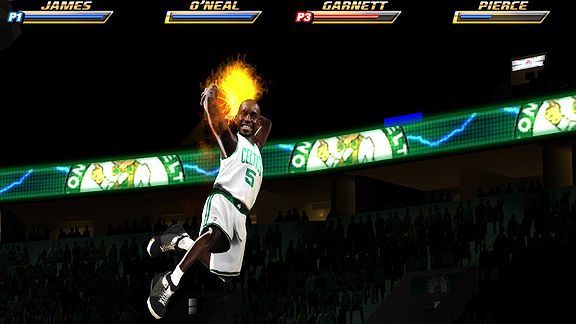 EA SPORTS
When it comes to the NBA, fire is good.
The Savannah Sand Gnats might not exactly be lighting up the South Atlantic League standings this season (although they're above .500) but their game promotions are positively en fuego. That's because the Mets' single-A affiliate recently hosted a flaming baserunner: stuntman Ted Batchelor, who rounded the bases at Historic Grayson Stadium. The advantages to having a runner on fire in baseball are clear - the opposing team will have to hope for a force-out because no one will want to have to actually make the tag. Here's a list of all the advantages and handicaps that come with being a human torch in professional sports.
Baseball - For the aforementioned reasons, it's far easier to hit an inside-the-park home run when you're engulfed. Just get an initial single, and you could keep rounding the bases until sliding home (our guess is the catcher will avoid a collision).
Golf - Nothing handicaps a game faster than sizing up a putt through three-hundred -degree flames. Besides, the grounds crew probably won't be too happy and we're pretty sure a suit made out of burning things is a violation of most country club's dress codes.
Football - A fire suit would be ideal for a team that plays a passing game, particularly if the man on fire is a receiver. But once a team starts running with the ball, the plan quickly falls apart. Too many unecessary fumbles.
Hockey - Probably the worst sport for a flaming suit. Sure, the player's bound to receive less checks per period, but after a while, that ice will start to melt. And that's a problem that even the world's most skilled Zamboni operators can smooth over.
Cycling - Can't be good. Besides the fact that a flaming cyclist would probably melt their bicycle frame, nothing would break up the Peloton faster than a cyclist on fire.
Basketball - It's always good to be on fire in the NBA.
Horse-racing - Neigh.