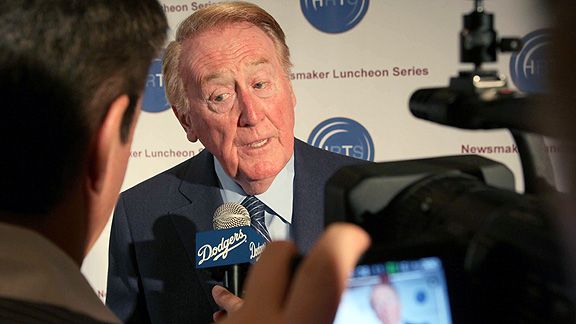 US Presswire
Who knows what Manny's up to, but Vin is coming back.
Ebbets Field has been gone for 60 years, but the Dodgers still have a national treasure in Vin Scully, the Hall of Fame broadcaster who will be back with the boys in blue for another season.
Scully has been with the Dodgers for 61 years - 58 more seasons than Manny Ramirez. That's longer than the lifetime of Ebbets Field, Dodger Stadium and the designated hitter rule.
Despite the fact that Scully has called thousands of games in his career, there aren't exactly thousands of Scully video clips online (for example, Scully called Don Larsen's perfect World Series game, but only the Mel Allen call is available).
But that's no reason not to celebrate Scully's greatest calls. Here's some of the best of the last half-century or so.
April 8, 1974: Henry Aaron surpasses the Babe's career home run record at Atlanta-Fulton County Stadium. Scully lets the crowd do the talking for nearly two minutes before crystallizing the historical significance of the event. Sometimes baseball is bigger than baseball.
January 19, 1997: Hall of Famer Whitey Ford is knocked unconscious from a barrage of pretzels at a Springfield Isotopes game. A black day for baseball.
September 9, 1965: Sandy Koufax throws a perfect game - the first one at night (click play in the upper right-hand corner).
October 25, 1986: The Mets win Game 6 of the World Series despite being two runs down with two outs and two strikes. Red Sox fans, avert your eyes (and ears).
October 15, 1988: Kirk Gibson walks off with Game 1. What's harder than hitting a game-winner in the World Series? Hitting one against a Hall of Fame closer. While standing on injured legs.
Want more? The folks over at Major League Baseball compiled their own highlight list. Good stuff. And with Scully back in the booth, there's sure to be more to come.