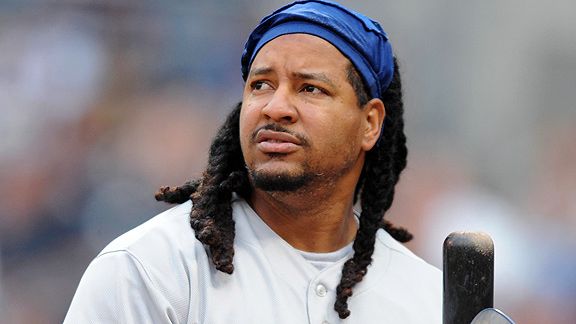 Christopher Hanewinckel/US Presswire
Sources: Manny Ramirez Headed to White Sox
The Dodgers are saying goodbye to Manny Ramirez. Sources say that the Chicago White Sox are set to acquire Ramirez on a straight waiver deal Monday. Ramirez was ejected for arguing a called strike during Sunday's 10-5 loss to the Rockies. His 25-month tenure in LA was quite eventful, including 44 home runs, a 50-game suspension, and 2 trips to the NLCS.
Source: Roethlisberger, Goodell to Meet
Ben Roethlisberger started for the Steelers who were defeated by the Denver Broncos 34-17 Sunday. The start for Roethlisberger begins a busy week ahead. He will meet with commissioner Roger Goodell this Friday in New York, the day after the Steelers final preseason game, a league source told ESPN NFL Insider Adam Schefter. Goodell will announce sometime after the meeting if Roethlisberger's suspension will be reduced from six to four games.
Shanahan Unsure McNabb Will Play in Opener
Donovan McNabb may miss the season opener against the Dallas Cowboys. This according to Redskins coach Mike Shanahan, who said today, "I really don't know for sure. That's why it's day by day. We'll see how it goes." McNabb hasn't practiced since spraining his left ankle in the second preseason game against Baltimore.
Matt Kuchar Claims First Win of Year
It's not where you start but where you finish, just ask Matt Kuchar. Kuchar started the final round of The Barclays five shots off the lead but closed with a 5-under 66 before defeating Martin Laird in a playoff. Tiger Woods closed with a 4-under 67 to finish at -7, tied for 12th overall.
Kevin Durant Leads U.S. Past Slovenia at Worlds
Kevin Durant's shooting and Kevin Love's strength sent the United States to a 2-0 start at the World Championship in Istanbul, Turkey. Durant scored 22 points, Love added 10 points and 11 rebounds off the bench, and the Americans beat Slovenia 99-77 in an opening-round game.
Ravens WR Stallworth Breaks Foot, Out For 8 Weeks
A broken foot will likely cost Donte' Stallworth two months of action. The Ravens WR suffered the injury during Saturday night's game against the New York Giants. Ravens coach John Harbaugh said he hopes to have Stallworth back on the field around the time the team has its bye week Oct. 31.
Bengals Release WR Bryant, Will Owe $8 Million
The Cincinnati Bengals released receiver Antonio Bryant, the team announced Sunday. Bryant signed a four-year, $28 million contract this offseason with just under $8 million guaranteed. He signed with Cincinnati despite offseason knee surgery that hadn't fully healed and didn't play a game in a Bengals uniform.
Hall of Famer Feller Being Treated For Leukemia
Bob Feller, the third-oldest living member of the Baseball Hall of Fame, is being treated for leukemia. The 91-year-old Feller was back at his usual seat in the Cleveland Indians' press box Sunday after missing the first five games of the current homestand. He said he felt good after 10 days of outpatient treatment at the Cleveland Clinic.
Monty Selects Harrington, Donald For Ryder Cup
Edoardo Molinari of Italy won big twice on Sunday -- first winning the Johnnie Walker Championship, then becoming one of three captain's picks for Europe's Ryder Cup team. Colin Montgomerie also chose three-time major winner Padraig Harrington and Luke Donald, who is No. 10 in the world ranking.
Fever Even Series With Liberty
The Fever refused to go away, defeating the Liberty 75-67 Sunday. Defensive player of the year Tamika Catchings had 17 points and 13 rebounds to help Indiana tie its best-of-three Eastern Conference semifinal series with New York. Game 3 is Wednesday in New York, with the winner advancing to face Atlanta in the conference finals.
The Associated Press contributed to this report.