AP Photo
Redskins' McNabb and Portis On The Sideline
Redskins QB Donovan McNabb again wore a compression stocking on his left leg Monday as he watched the team's workout. Neither the veteran quarterback nor RB Clinton Portis is expected to play Thursday, even if healthy, because coach Mike Shanahan usually doesn't play starters in the final preseason game. Shanahan said that McNabb and Portis are day to day, but teammates expect both to play in the season opener against the Dallas Cowboys on Sept. 12. McNabb's injury has hindered his development as he learns a new offense after 11 seasons with the Philadelphia Eagles.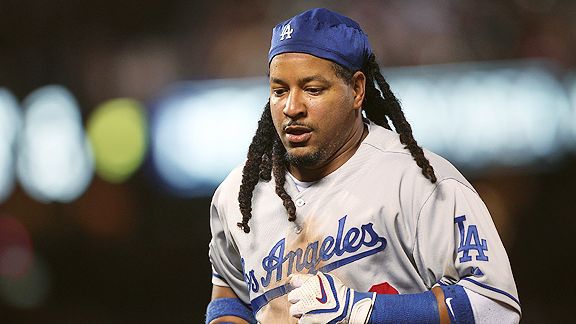 Jed Jacobsohn/Getty Images
Manny Ramirez To Join White Sox Tuesday
The Chicago White Sox claimed 12-time All-Star slugger Manny Ramirez off waivers from the Los Angeles Dodgers, and he will join the team in Cleveland on Tuesday, a source familiar with the situation told ESPNChicago.com's Bruce Levine. The White Sox will be responsible for the remaining $3.825 million of Ramirez's contract this season. Chicago begins a key 10-game road trip to Cleveland, Boston and Detroit tonight. Ramirez joins his fourth major league team. The Sox began the day 4½ games behind first-place Minnesota in the AL Central.
Getty Images
Troy Polamalu's Hair Insured For $1 Million
Troy Polamalu has a nice head of hair. How nice? People Magazine is reporting that Head and Shoulders is insuring Polamalu's hair for a million bucks. The Steelers safety is the spokesperson for the shampoo. He hasn't gotten his haircut in 8 years. Polamalu says it takes him 45 minutes to get his hair ready for a game -- it's what a warrior in the past would do to prepare for war.
The Associated Press contributed to this report.