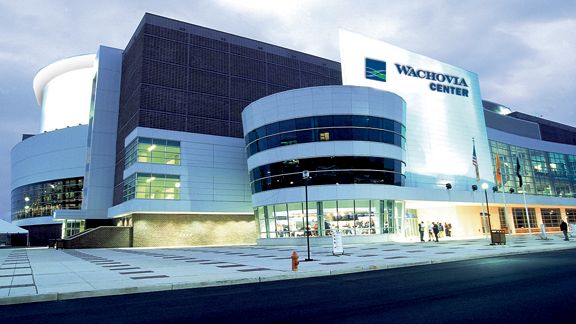 More corporate naming rights? Like Vernon Trent said in "Hard to Kill" - You can take that to the bank!
With Philly's home for the 76ers and Flyers in the transition stage from it's old bank name (Wachovia Center) to its new one (Wells Fargo Center) - and having previously been known as both the CoreStates Center and First Union Center - we thought it would be fun for this week's List of Eight to test your knowledge of stadium corporate naming rights and Hollywood's fictional bank industry.
We pulled the official titles of a handful of stadiums named after regional banks and sorted through our DVD collection for a few of our favorite banks on film. So go ahead and tell us, American stadium or fictional movie bank? Extra credit if you can also name the home teams and movies.
1. Comerica
2. Gotham National
3. Nakatomi
4. M&T Bank
5. Duke & Duke
6. TD BankNorth
7. JT Marlin
8. EverBank
Answers after the jump.
1. Stadium (Detroit Tigers)
2. Movie (The Dark Knight)
3. Movie (Die Hard)
4. Stadium (Baltimore Ravens)
5. Movie (Trading Places)
6. Stadium (Boston Celtics/Bruins)*
7. Movie (Boiler Room)
8. Stadium (Jacksonville Jaguars)
*Yes, we know it's officially the "TD Garden" now, but "The Garden" will always be the "TD BankNorth Garden" to us.