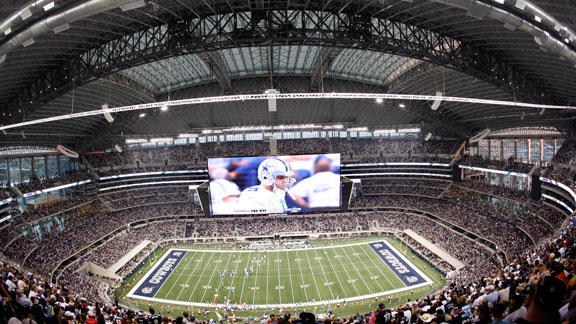 "Ok, now in which seat did we leave the remote?"
With the first NFL games of the 2010 season less than a week away, the big unknown for team owners right now isn't whether they need to check their ring sizes or practice dead-lifting giant trophies. What the owners are most concerned about is whether there will be sold out audiences in the stands each Sunday.
As you may have heard, the NFL expects attendance to drop for a third straight season this year, falling to its lowest levels since 1998. Ooooh, 1998. The same year that the NFL brought us a Broncos Super Bowl win, the Thanksgiving coin-toss debacle, and a new rule that prohibited the use of tinted visors on players' facemasks. How could we forget.
But now we're twelve years later and attendance levels are trending in the wrong direction - what can be done about it? Well, for one, the attendance slide coincides with the worst economic climate since the Great Depression - and that's slightly outside our area of expertise. Also, the average price of tickets is on the rise, so that's not really helping either. Then, to top things off, the HDTV audience is growing, with the NFL drawing its largest television audience in 20 years. Apparently fans have decided, for one reason or another, that games are best enjoyed at home.
Why not accept reality and make the stadium experience more like the one at home? That's seems to be the strategy that is presently unfolding. In Cowboys Stadium, they have the world's largest HDTV. In the New Meadowlands Stadium they've installed 2,200 smaller HDTVs (almost 50,000 square feet of screens) to be seen pretty much anywhere at anytime.
So what else can the owners and teams do to bring the best of the home-watching experience to the stands? Here's an idea to get things started. Has anyone considered installing a seating section that is composed entirely of couches and recliners? If Arizona Diamondbacks fans can watch a game from a pool, then why can't Arizona Cardinals fans watch a game from a La-Z-Boy? Go ahead and throw in an armrest cooler, a massage option, and (for the cold-weather venues) a heated cushion, and the owners will have themselves at least one seat that is unlikely to go unsold.