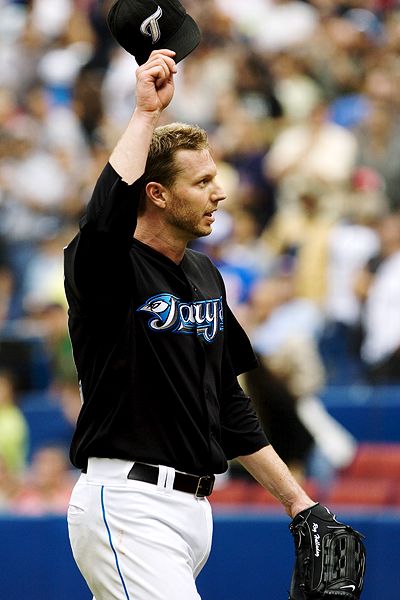 AP Photo/The Canadian Press, Darren Calabrese
Hey B-Cash, cu @ spring training. xoxo, Doc
Major League Baseball gets together for it's annual reunion this week in balmy Indianapolis and by the sound bytes of GMs everywhere, it appears that every team has been losing that extra girth in their budgets in anticipation of the meetings. Unfortunately, this is not a high school reunion so there's very little chance of Ruben Amaro Jr and Omar Minaya stealing a golf cart and driving it into Depew Fountain.
What exactly will happen, no one knows for sure. But here's our list of Yearbook Superlatives for people we can't wait to see as we head into the dramafest Winter Meetings.
Most Popular — Roy Halladay
When Halladay walks down the hall, heads will turn. Specifically the heads of officials from the Yankees, Red Sox, Angels, Phillies and Dodgers. But that doesn't mean current sweetheart Toronto doesn't have a chance to hang on.
Best Friends — Matt Holliday and Scott Boras
Boras will be trying to drum up huge dollars for Holliday. Like Mark Teixeira dollars. Problem is, that market's not there. We're sure that won't stop Scotty Super Agenty from walking around arm in arm with Holliday all week though in an effort to create it.
Most Likely to Succeed — John Lackey
He's the top free agent arm, so something good's gotta happen for Big John. And Seattle, Milwaukee, the Yankees (surprise!) and the Mets all hope that "something good" is signing with them.
Biggest Flirt — NY Yankees
The defending World Champs say they're cutting back this winter – GM Brian Cashman even says he has a budget! – but yeah, right. When it comes to blockbuster deals, you can never count the Yankees out.
Most Overwhelmed — Alex Anthopoulos
Hi Alex, welcome to your first year as the GM of the Blue Jays. Don't worry, you only have the most-talked about player on the market on your team. One who, if you don't trade him now, you'll likely lose with no compensation next year. Oh, and any action you take this week will pretty much define your legacy in Toronto. Have fun!