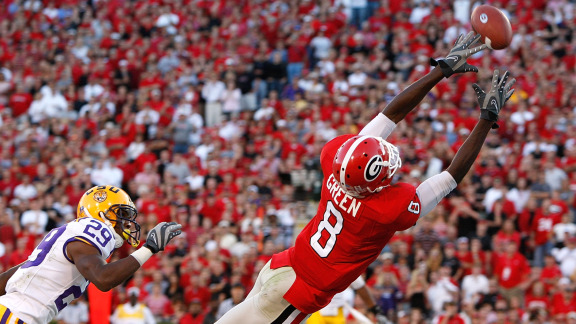 Kevin C. Cox/Getty Images
NCAA Benches Georgia's A.J. Green
Georgia wide receiver A.J. Green is ineligible for his team's next three games. This according to an NCAA statement released Wednesday indicating, Green sold his Independence Bowl game jersey to an individual who meets the organization's definition of an agent. The school says it will appeal the decision.
Getty Images
Saban: Mark Ingram Probably Won't Play
Alabama tailback Mark Ingram is unlikely to play for the top-ranked Crimson Tide against Penn State Saturday. Crimson Tide coach Nick Saban says Ingram's knee is improving. He sat out the season-opener after having an arthroscopic procedure to repair an injury sustained in practice early on during opening week.
Getty Images
No Albert Haynesworth Trade This Week
Mike Shanahan says Albert Haynesworth will be with the Washington Redskins when they open the season Sunday night against the Cowboys. Shanahan made the announcement in response to reports that Washington was discussing a Haynesworth trade to the Tennessee Titans. The coach also wouldn't admit whether he and Haynesworth have put their differences behind them.
The Associated Press contributed to this report.