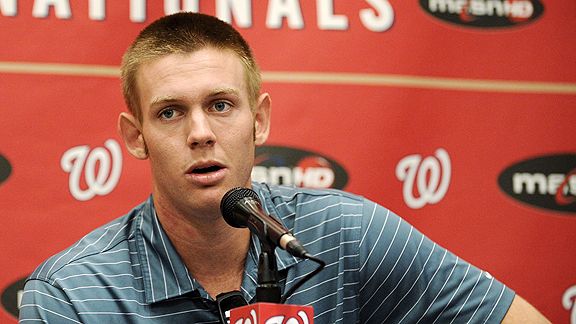 AP Photo/Nick Wass
"No, I don't believe in ghosts - but Boo Berry is my favorite cereal. Is that good enough for you?"
A pair of writers in the Baltimore Sun took an interesting look this week at the source of the Washington Nationals recent woes. Why do they lose so many games? Do they really deserve the injury to Stephen Strasburg, their talented young ace? The conclusion is both frightening and awesome: The Nationals may be suffering from a baseball curse, the curse of Abraham Lincoln's Assassins! BOOM!
The rationale goes something like this: the Nationals have struggled since arriving in DC from Montreal (to the tune of an average 93 losses a year) with one of the worst home attendance records in the league because Nationals Park sits near where the autopsy of John Wilkes Booth was performed and four of his co-conspirators were tried and hanged in July 1865. Booth himself was even buried nearby for a few years. Ok, consider us intrigued.
To be fair, the theory is all in good fun (we hope), but the whole idea that the ghosts of Lincoln's killers are haunting the Nationals - and nobody else - is a just a bit far-fetched. Sure the DC connection makes sense, but other MLB teams could likewise be snared in the haunted Booth trap.
For example, how about the Orioles? They have more losses than the lowly Nationals this year, and not only did Booth's unsuccessful escape attempt take him through Maryland, but his final resting place is now in Baltimore.
And why not haunt the Phillies? They're sitting in first place in the NL East despite the fact that the Mutter Museum in Philadelphia has a piece of Booth on display. Yes, you read that correctly - Booth's neck tissue is in a jar in Philly, right now, as you read this - and Howard and Utley are just hitting their annual September stride.
Can't someone get to the bottom of this? You know, this is just like "National Treasure: Book of Secrets." Nic Cage, where are you when we need you?
(h/t Big League Stew)