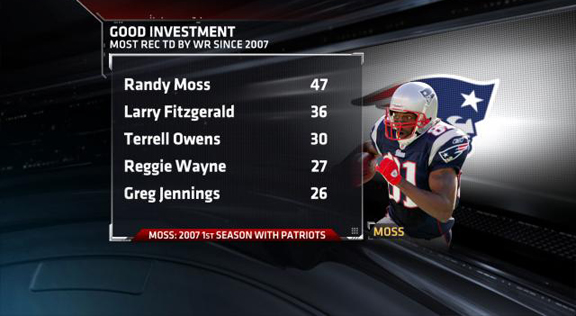 DEEP THREAT: While his future may remain uncertain, there is no doubting the value Randy Moss has provided to New England since joining the franchise. Moss leads all wide receivers in touchdown receptions since 2007. His 23 touchdown catches in his first season with the team set an NFL record.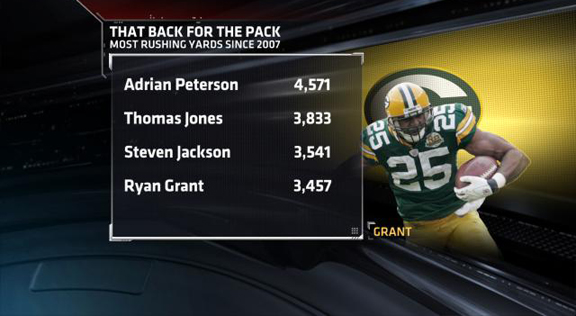 GET WELL SOON: Ryan Grant became the number one back in Green Bay in the middle of the 2007 season and since the beginning of that year only 3 other backs in the NFL have rushed for more yards. Adrian Peterson, Thomas Jones and Steven Jackson.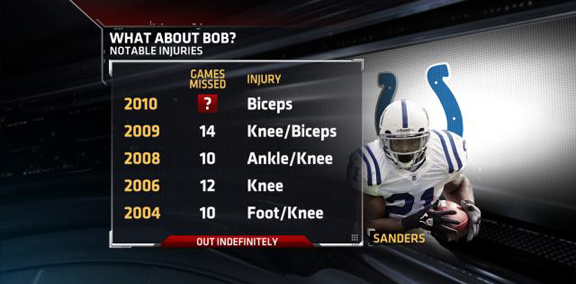 TOUGH LOSS: If Bob Sanders is lost for the season it will be the 5th time in his 7-year NFL career he has missed at least 10 games due to injury and second straight year he will miss significant time due to biceps injuries. Sanders has never played a full NFL season.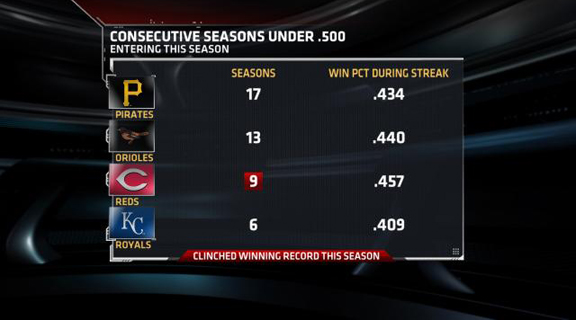 BREAKING THE .500 BARRIER: The season isn't over, but the Reds can already celebrate getting off this list. The Pirates' 17 straight losing seasons (soon to be 18) is by far the longest active streak among major-league teams. Next is the Orioles' 13 straight (their last winning season was 1997 under manager Davey Johnson). AL Central basement dweller Kansas City is working on a streak of 6 straight.
MORE: MLB Standings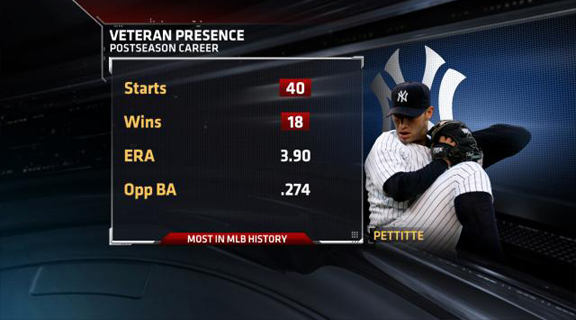 LIKE A ROCK: Andy Pettitte, getting an early taste of postseason action, allowed two runs in five innings of his rehab start for Double-A Trenton, against Altoona in the first game of the Eastern League Championship Series. Pettitte afterward said he expects to pitch Sunday for the Yankees. You can see why the Yankees would love to have Andy Pettitte healthy and ready to go for the postseason. No pitcher in major league history has started more postseason games (40) and earned more postseason wins (18). Last season alone, Pettitte won 4 postseason games for the Yanks to help them win the World Series!