Acting! Brilliant! Sure, the pitch was inside on Derek Jeter. Sure, he hopped around like it hit him. Sure, it didn't. Sure, he was awarded first base. Sure, he took it. Because Yankee captain Derek Jeter is not the kind of guy who's going to tell an ump he's not going to go to first when the ump tells him to. "He told me to go to first base. I'm not going to tell him I'm not going to first, you know," Jeter said. Sounds a lot like what Thierry Henry said about his handball that got France into the World Cup at Ireland's expense. (Sounds a lot like what LeBron James didn't say after this, especially after he took three free throws. Especially after they won the game by three points.) It was a performance worthy of Broadway, if not Al "My arm! It's broken!" Czervik. Or Arkansas' Brian Walker. (His ump didn't buy his performance, and made him stay at the plate, and tossed him after he threw a tantrum after striking out.) Instead, Jeter was in the perfect position to score when the next batter up (Curtis Granderson) poked one to right. The two-run shot put the Yankees ahead 3-2. But Dan Johnson answered with a two-run shot in the bottom of the frame that proved to be the winner. Feels like Karma.
More from that game, including a closer look at the give and take atop the AL East, after the jump.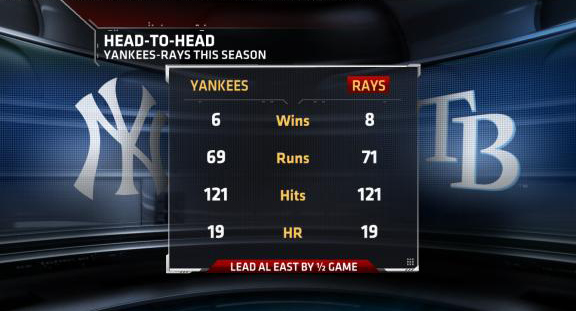 The Rays and Yankees have played similar baseball head-to-head, with Tampa Bay owning the edge in victories 8-6. And offensively they've been almost identical. But of course, the key number is division lead, which the Rays also own by a 1/2 game. They'll meet four more times this season - all in one series that begins Monday in New York.