Getty Images
North Carolina Down 12 Players vs. Ga. Tech
North Carolina is short-handed again due to the ongoing NCAA investigation into its football program. The Tar Heels are without 12 players for today's home opener against Georgia Tech. The list includes NFL prospects Marvin Austin, Robert Quinn, Kendric Burney and Deunta Williams on defense. The Tar Heels are also without top receiver Greg Little and running back Ryan Houston. Thirteen players missed the opener against LSU on Labor Day weekend. The school had hoped to find out the status of several players during the off week that followed, but only tailback Shaun Draughn was cleared from that group. The NCAA is looking into agent-related benefits and possible academic misconduct involving a tutor.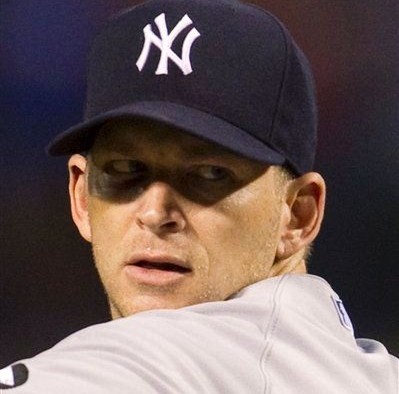 AP Photo/Rob Carr
Yankees A.J. Burnett Not Talking About Black Eye
Yankees pitcher A.J. Burnett refused to discuss how he suffered a black right eye after taking a no decision in the Yankees' 4-3 victory against the Orioles. Burnett said, "There's more important things going on than my eye ... I'm good ... This is probably the best I've felt in a long time." Burnett said the injured eye did not affect his vision on the mound and was not baseball related. Yankees manager Joe Girardi would not comment on the black eye. Burnett allowed three runs on six hits over seven innings though he allowed homers to Adam Jones and Robert Andino. Burnett left the game with the Yankees trailing 3-1.
Getty Images
Top Raptor Rookie Ed Davis Injures Knee In Pick-Up Game
Raptors rookie forward Ed Davis sustained a "meniscal" injury to his right knee during a pickup game Wednesday night and the treatment options are still being determined. Davis was playing informally when he landed the wrong way after a rebound and hurt himself. The team did not disclose details of any treatment for Davis, which could run from rest to arthroscopic surgery. Toronto begins training camp at the Air Canada Centre on Sept. 28. Davis, a 6-foot-10, 215-pound 21-year-old, was taken 13th overall by the Raptors in June's NBA draft. The son of former NBA player Terry Davis had long been pegged as a prospect worthy of a top-six draft slot but sat out most of his sophomore season at the University of North Carolina after suffering a broken bone in his left wrist.
The Associated Press contributed to this report.