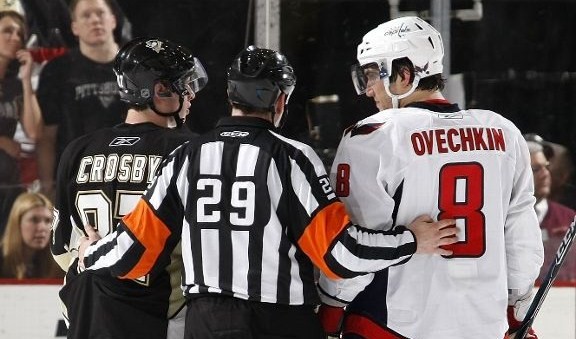 Getty Images
"Come on, boys. Save it for HBO"
By now you've heard of or seen the HBO reality series "Hard Knocks," which follows an NFL team around during its training camp and preseason. You know, the one that most recently featured the New York Jets and the mouth of Rex Ryan (earmuffs, kids!). HBO has now decided to cool things off a bit and do a similar show about the NHL. The focus of this show — called "24/7 Penguins/Capitals Road to the Winter Classic" (doesn't have quite the same ring as "Hard Knocks" does it? — will be on two teams as they prepare for and play in the Winter Classic. Hockey's hottest fan-instigated rivalry will get the spotlight for four one-hour episodes, making for some toothless and foul-mouthed fun for all sports and reality TV fans.
This, of course, got us thinking about what would happen if some of today's hottest reality shows decided to put a little NHL ice in their veins:
Survivor: Ottawa
Not that it's that difficult to survive in Ottawa; it just sounds that way to most Americans south of the border.
Last Comic Standing
The NHL is known for some pretty hilarious personalities. We'd love to see the always funny Sean Avery, Scott Gomez, Alexander Ovechkin, Patrick Kane, Colby Armstrong, Marty Turco and Chris Pronger give their best five minutes of one-liners and anecdotes in front of a jaded panel of judges.
Top Chef
Serving up such culinary masterpieces as "biscuits in the basket" and "Stanley Cup"-cakes with extra "icing" would be the tastiest sports/edibles crossover ever.
Extreme Makeover: Arena Edition
Last season's finale featured a dramatic farewell to Pittsburgh's Mellon Arena. On this season's premiere, we go to Nassau Veterans Memorial Coliseum and transform one of the NHL's most antiquated and dilapidated arenas into a palace fit for the Islanders four consecutive championship banners. Next week: Joe Louis Arena.
The Real Housewives of the NHL
Take Hilary Duff (Mike Comrie) and Carrie Underwood (Mike Fisher), assemble other high-profile league spouses and give them the camera crews they've been secretly missing for a few years. Hilarity ensues.
See how entertaining the NHL could be in the world of reality television? It's worth noting we didn't suggest American Idol ... .