WESTERN SIZZLIN':
Just like Australia's Next Top Model, the NL West is hard to clinch. Tim Lincecum gave up a lead-off home run for the first time in his career. The Diamondbacks gave up after that. Lincecum struck out 11 in the Giants' 3-1 win - his 26th career game with double-digit strikeouts. Only Jason Schmidt (27) and Christy Mathewson (28) had more for the Giants since 1900. Meanwhile, the Padres blanked the Cubs 3-0. It's San Diego's 20th shutout of the season - tied with the Phillies for the most in all of baseball. But they're still two games back, which means that the Giants can clinch a tie for the NL West title with a win over the Diamondbacks this afternoon (3:45 ET) and a Padres loss to the Cubs tonight (6:35 ET).
A closer look at the standings and how the schedule shapes up down the stretch, after the jump.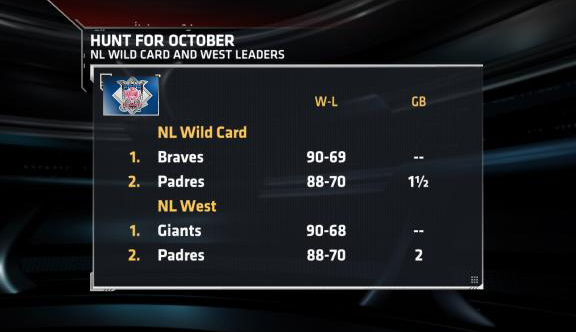 The Braves won their 90th game of the season, and so they kept their 1.5-game cushion over the aforementioned Padres in the NL wild card race. It's the 15th 90-win season in the final season for manager Bobby Cox. So he'll end his career trailing only the legendary Quick Draw John McGraw for most career 90-win seasons (16). Atlanta is off today before hosting Philadelphia this weekend. The Giants and Padres will meet in San Francisco for a closing three-game series tomorrow.