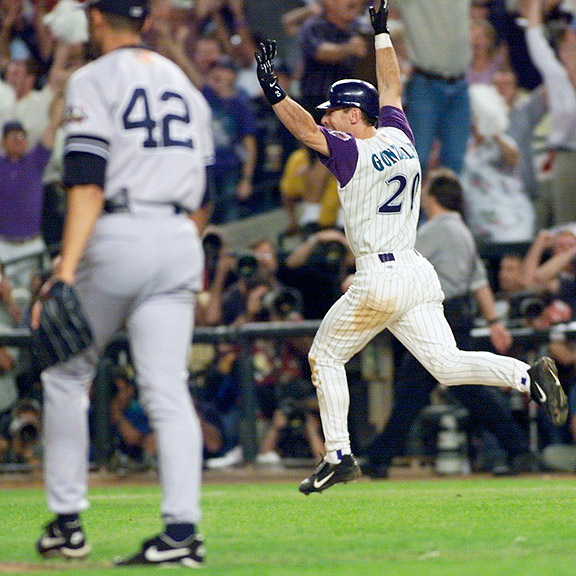 Timothy A. Clary/AFP/Getty Images
Luis Gonzalez's single may have won a World Series, but not a permanent place in the collective hearts and minds of sports fans.
Dime Magazine just put out a list of their Top 5 Forgotten NBA Videogame Cover Athletes, an homage to the likes of Drew Gooden and Mitch Richmond. These ballers may have been been among the top of the crop back in the day, but rarely come up in sports gaming conversations (and then even only among the most die-hard of fans). That got us thinking about other athletes from other arenas who were prominent spokesmen once ... and we mean ONCE. If you remember these names with these games, consider yourself a true sports videogame nerd:
Luis Gonzalez
Game Cover: "Triple Play Baseball 2002"
Earned it by: Hitting 57 home runs, 142 RBI with a .325 BA back in 2001, along with a World Series-winning bloop single against Mariano Rivera.
Last Seen: First Arizona Diamondback to have his number retired in 2009 and the occasional color commentary man.
Videogame Features: Bob Costas and Harold Reynolds on play-by-play and an ironically terrible batting interface. The game was so panned, it's no wonder EA Sports dropped the Triple Play name and rebooted as "MVP Baseball" the next year. Incidentally, "MVP Baseball 2003" was the first hardball simulation to ever incorporate the modern pitching meter. 2K Sports essentially killed the franchise after signing an exclusive contract with Major League Baseball in 2005 ... call it payback for EA making "Madden" the only NFL game in town. Basically, poor Luis hitched his image to the last in a series of stinkers before things got going.
Sinjin Smith and Randy Stoklos
Game Cover: "Kings of the Beach"
Earned It By: Being the ... um, kings of (the) beach (volleyball circuit). Back in the days when it was perfectly acceptable to wear neon colored clothing in public, Smith and Stoklos were the most dominant duo in their sport. Stoklos was the first volleyball player ever to earn $1 million in tournament winnings. Smith had a small role in "Magnum P.I." and was also named one of People Magazine's 50 Most Beautiful People.
Last Seen: Running their own volleyball camp together. Probably rockin' the same tans since the 80s.
Videogame Features: Published for the original Nintendo Entertainment System by Ultra Games in 1990, the same spinoff of Konami that released the first "Metal Gear" installment. Besides Stoklos' one-handed "Kong block" and the appearance of real-life team Tim Hovland and Mike Dodd, pretty much everything about this game was fake. At least you could complain to the ref with the "select" button. Otherwise, this title had nothing on the much more muscular Super Spike V'Ball.
Rick Tocchet
Game Cover: "NHLPA Hockey '93"
Earned It By: Being part of a deal for Mark Recchi en route to helping the Penguins repeat as Stanley Cup champs in the '92 season. Punching out Wendel Clark and Cam Neely.
Last Seen: Serving as Flyers Postgame Live panelist, a gig he started immediately after getting cut as head coach of the Tampa Bay Lightning.
Videogame Features: Developed for the Super Nintendo and Genesis, this was the only title in the long-running series not to have an NHL license. Perhaps that accounted for the inclusion of fights and pixelated blood, which was sadly cut from all future versions of the game, a point not lost on Vince Vaughn and friends in "Swingers."