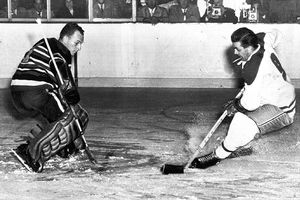 AP Photo
Yeah, there are two Rockets. One has six Cy Youngs and the other has 544 career goals.
October 19, 1957: There are now 41 players in the NHL's 500-goal club. But it wasn't until Maurice "Rocket" Richard took the ice on this day 53 years ago that this exclusive club garnered its first member.
The Canadiens were hosting the Blackhawks at the Montreal Forum. It was Richard's 863rd career game. At age 36, in front of his home crowd, Richard registered his 500th goal against goaltender Glenn Hall on a one-time pass from Jean Béliveau to become the first NHL player to ever record 500 career goals. He dedicated the puck to former Canadiens coach, the late Dick Irvin. Coincidentally, Richard also scored his 100th, 200th and 400th goals against Chicago.
Five years later, the 500 goal club would induct its second member. On March 14, 1962, Gordie Howe scored his 500th career goal. However, it took Howe 1,045 games to accomplish the same feat Richard had reached in 182 fewer games.