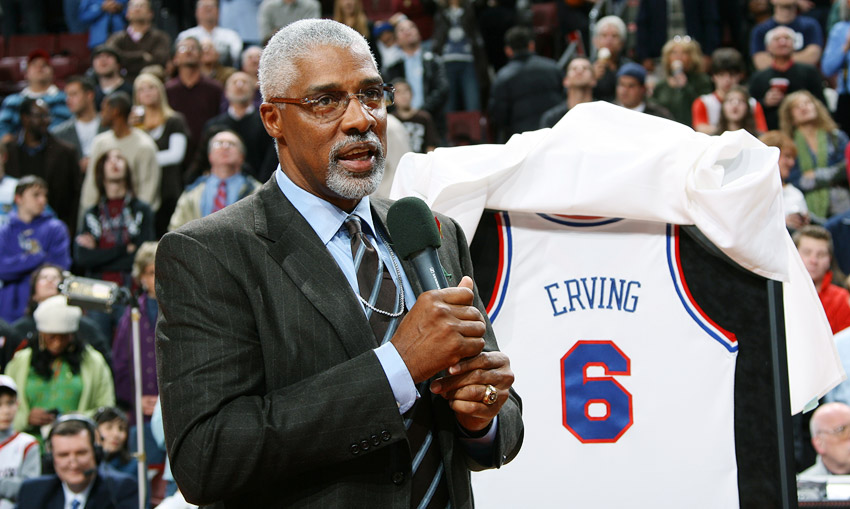 Jesse D. Garrabrant/NBAE/Getty Images
"Thanks guys. Just what I always wanted, yet another throwback jersey for me to sign."
October 20, 1976: Julius Erving had been the American Basketball Association's brightest star. He had won the scoring title, league MVP crown and the inaugural All-Star Slam-Dunk championship en route to leading the New York Nets to their second title. But the ABA had also wrapped up its final season, and the Nets were on the move to the rival National Basketball Association, along with the Denver Nuggets, Indiana Pacers and San Antonio Spurs.
However, Nets owner Roy Boe was in a bind. In addition to the joiner's fee, the Knicks had demanded a tribute since the newcomers were crashing their market. Dr. J had also been promised a salary increase, but when Boe couldn't make good on the raise, Erving sat out of the preseason. So today, in desperation, Boe sold Dr. J's rights for three million dollars (Dr. Evil pinkie) to the Philadelphia 76ers a mere 24 hours before the start of the NBA season. He joined a roster that included future coach Doug Collins and Lloyd (later World) B. Free.
The Doctor would go on to pace his team in scoring at 21.6 points per game, guiding the Sixers to a 50-32 record and the Atlantic Division title. He would take Philly to the NBA Finals, only to see the 76ers squander a two-game series lead as they fell to Bill Walton's Portland Trail Blazers in six. He would remain with the Sixers for the rest of his career, eventually winning an NBA Championship ring in 1983.