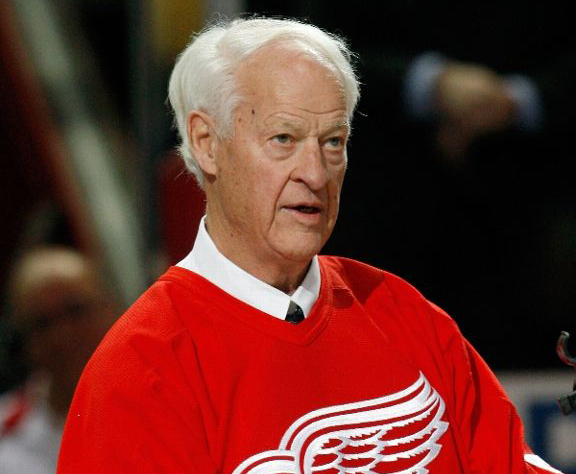 Getty Images
Although he hasn't announced it yet, the 82 year-old Gordie Howe could feasibly make a comeback any day now.
They say age is but a number, but that's hardly true when it comes to athletes and their limited shelf lives. For instance, Brett Favre gets about as much credit for his career accomplishments as he does for his age. After all, he's playing in his 20th NFL season and, when he's not playing football, is a grandfather. But we've got news for Mr. Favre: you're not the only grandpa scoring points on the gridiron. In fact, you're just a pup in comparison to who we're about to introduce.
Meet Alan Moore, the 60 year-old kicker for the Holmes Community College football team. This past weekend, Mr. Moore kicked an extra point through the uprights to become the oldest man to score points in National Junior College Athletic Association football history, let alone college football history in general. Mind you, he's not the oldest athlete in NJCAA history. That honor belongs to Ken Mink who, at the tender age of 73, played basketball for Roane State Community College. He's also not the oldest football player in college sports history, as that would be the 61 year-old kicker for Austin College, Tom Thompson. Regardless, Moore now stands as the oldest college football player to score a point; a record that's sure to stand the test of time … much like Mr. Moore has. The best part? After kicking that historic point, Moore was immediately interviewed by a local TV station. A modest, humble man, Moore cut the interview short, saying, "I've gotta go see my grandkids."
To put Mr. Moore's feat in perspective, let's take a look at the oldest pro athletes who still had at it while most athletes are long since retired:
NBA: Pat Hickey, age 46, played for the Providence Steamrollers in the 1947-48 season.
MLB: Satchel Paige, age 59, played for the Kansas City Athletics in 1965.
NFL: George Blanda, age 48, played for the Oakland Raiders as a placekicker in 1976.
NHL: Gordie Howe, age 52, played for the Hartford Whalers in 1980. Howe then returned to the ice in 1997, at age 69, for one game with the Detroit Vipers.
Who says you have to wait to tell your grandkids about your accomplishments? If you're like most of these guys, you can simply have the grandkids in the crowd, cheering you on.