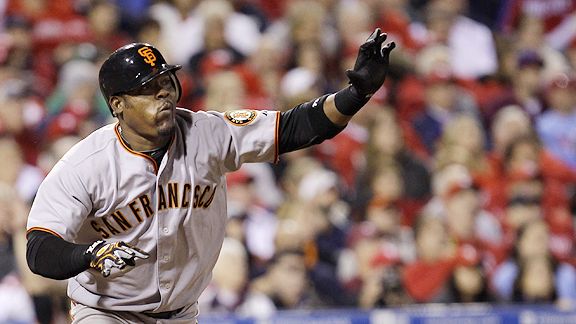 AP Photo/David J. Phillip
Giants Top Phillies 3-2, Advance to World Series
The San Francisco Giants are the 2010 National League Champions. Juan Uribe's solo HR in the eighth inning gave the Giants a 3-2 lead they wouldn't relinquish. San Francisco closer Brian Wilson earned the save by recording the last five outs, sending the Giants to the World Series for the first time since 2002.
Missouri Tigers Take Down Top-Ranked Oklahoma, 36-27
Another one bites the dust. Top-ranked Oklahoma fell to No. 11 Missouri 36-27 on Saturday night. Tigers QB Blaine Gabbert was 30 of 42 for 308 yards and 1 TD during the win. Sooners QB Landry Jones was solid in defeat, going 32 of 50 for 303 yards with 3 TDs and 2 INTs.
Manager: Brett Favre Placed Call in '09
The NFL is investigating allegations that Brett Favre sent inappropriate photos and messages to a Jets game hostess in 2008. A spokesman for Jenn Sterger says Favre attempted to contact Sterger again in 2009, after both had left the team. The St. Paul Pioneer Press reports that Sterger would decline the league's interview request if she and Favre reach a financial settlement. Favre has not publicly addressed the allegations.
UFC 121 Upset: Cain Velasquez TKOs Brock Lesnar
The heavyweight title bout was scheduled for five rounds but didn't even last one. Challenger Cain Velasquez dominated heavyweight champion Brock Lesnar, winning by TKO at 4 minutes and 12 seconds into the first round. With the win, Velasquez becomes UFC's first Mexixan-American undisputed heavyweight champion.
Mark Dantonio Coaching From Field
The No. 7 Spartans defeated Northwestern 35-27 on Saturday, in come-from-behind fashion. Sparty Nation overcame a 17-point deficit for the win. Spartans coach Mark Dantonio returned to the sidelines for the game, for the first time since September 18, one day prior to suffering a mild heart attack.
Iowa State Scores Upset After Forcing Four Garrett Gilbert Turnovers
Back to the drawing board. The Texas Longhorns suffered another disappointing loss on Saturday, falling to Iowa State 28-21. Iowa State QB Austen Arnaud threw 2 TDs and Alexander Robinson rushed for 120 yards and two scores during the win. The Cyclones defense forced four turnovers by Texas QB Garrett Gilbert.
Dwyane Wade Returns to Heat Practice
D-Wade is back. Wade returned to the Miami Heat on Saturday for his first full workout with teammates since straining his right hamstring on October 5. He expects to be ready for the Heat's season opener at Boston on Tuesday. Miami also announced the signing of 35-year-old Jerry Stackhouse.
Kenya Red Cross: 7 Die From Stampede
The Kenya Red Cross says seven people died in a stampede while trying to gain access to a soccer match between Gor Mahia and AFC Leopards, two of Kenya's most popular teams. According to a Red Cross official, six people died at Nyayo National Stadium and one died after being taken to Kenyatta National Hospital on Saturday.
Four-Goal Cristiano Ronaldo Rips Racing
Cristiano Ronaldo delivered in a big way on Saturday. Ronaldo scored four goals to lead Real Madrid to a 6-1 victory against Racing Santander. It was the first time Ronaldo scored four times within a 40-minute span, stretching his season-leading total to 10, while keeping Madrid atop the standings with 20 points.
Alicia Sacramone Wins World Vault Title
Unretired gymnast Alicia Sacramone captured a world championship gold medal on Saturday. The 22-year-old Sacramone capped her return to competition by defeating 16-year-old Aliya Mustafina of Russia in the vault. Sacramone came out of retirement to help erase the memory of her falls on the beam during the 2008 Beijing Games.
Note: The Elias Sports Bureau, ESPN Stats and Information group and The Associated Press contributed to this report.