October 26, 2010 8:45 AM ET
BROKEN RECORD, CLAVICLE
Tony Romo
is getting set for a CT scan this morning after
the Giants
broke his collarbone last night. A source tells our own Ed Werder that
Romo will miss six to eight weeks
, depending on whether or not he needs surgery. He's the fifth quarterback these Giants have taken out in seven games so far this season (see also:
Moore, Matt
and
Cutler, Jay and Collins, Todd
and
Hill, Shaun
). So congratulations to you, Peyton Manning (
Week 2
), and you, Vince Young (
Week 3
), and you, Matt Schaub (
Week 5
) since you survived. And congratulations to you, G-Men, since your five wins are
tops in the NFC
. Enjoy your bye week. (So good luck to you, Matt Hasselbeck, a week from Sunday in Seattle.)
Recap
|
Jerry Jones on Tony Romo
More from that game including how rare it was what the Giants did, after the jump.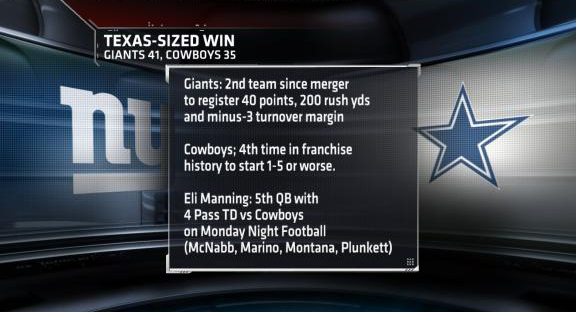 The Giants became just the second team since the merger to register at least 40 points, 200 rushing yards and a minus-3 turnover margin. With the loss, the Cowboys dropped to 1-5. It's the fourth time in franchise history that they've started 1-5 or worse. And Eli Manning joined Donovan McNabb, Dan Marino, Joe Montana and Jim Plunkett as the only quarterbacks to throw 4 touchdown passes against the Cowboys on Monday Night Football.
Tags: SC Highlight Of The Night, Jay Cutler, Peyton Manning, New York Giants, Dallas Cowboys, Monday Night Football, Seattle Seahawks, Matt Hasselbeck, Vince Young, Matt Schaub, Ed Werder, Tony Romo, Jerry Jones, Matt Moore, Shaun Hill, Todd Collins